Welcome to our article about the best scopes for a Marlin 1895 SBL!
We'll go through the pros and cons of our top 4 scopes a bit further down this article, but first, let's discuss a bit more about the Marlin 1895 SBL and why you might want to consider investing in a scope in the first place.
Scopes for a Marlin 1895 SBL – Introduction
The Marlin 1895 evolved from the Marlin 336, which is one of Marlin Firearm's most well-known rifles. 
The popularity of Marlin rifles stems from them being incredibly accurate and powerful when shooting at intermediate distances, which makes them great deer-hunting rifles.
Despite their vast capabilities when shooting at intermediate distances, most Marlin rifles are lacking in the long-distance shooting department. 
Even a solid rifle scope can't make a Marlin work well for long-range shooting.
Therefore, when buying a scope for a Marlin 1895 SBL, you want to look at scopes that will accentuate the Marlin's intermediate range prowess. 
A moderately powered scope will be a much better fit than a high powered scope, which is why you commonly see Marlins equipped with scout scopes.
ALSO READ: "The 4 Best Scopes for Your Marlin 336 Rifle"
Here are the best scopes for your Marlin 1895 SBL:
The 4 Best Scopes for a Marlin 1895 SBL:
Best budget scope for a Marlin 1895 SBL.
Click Value: 1/4 MOA
FOV: 44.6′ at 2x, 17.8′ at 7x
Weight: 9.9
Eye Relief: 3.7″-4.2″
Very light
Large amount of eye relief
Compact
Can take a beating
Water, shock, and fog proof
Not great at gathering light
Noticeable loss of sharpness around the edge of the FOV
Not at all recommended for hunting dangerous game. However, can be used as a decent/good backup
The VX-1 2-7×33 is an amazing scope, but that is not a surprise considering that it is made by Leupold. 
Leupold is unmatched when it comes to consistently making world-class optics.
The overall optical quality of this scope is good. 
Leupold's duplex reticle makes it easy to see your target, which the scope brings in clearly. 
One problem that we noticed was the loss of sharpness around the edge of the FOV, but it did not cause us any problems and will go unnoticed in the field.
You need a lot of eye relief when using an SBL, and this scope provides it. 
Also, the scope is so compact and lightweight that I could barely tell any difference in mobility before and after mounting it! 
As with any Leupold scope, this one was tested extensively by their staff to make sure it would be 100% reliable in the field. 
Scopes made by other brand are no match for Leupold scopes when it comes to durability (besides Redfield's scopes but Redfield is owned by Leupold, so ya know).
If you are on a tight budget, this is the scope for you. 
The Leupold VX-1 2-7x33mm (See at Amazon) provides the most bang for your buck out of any other SBL scope under $200!
2. Leupold FX-II Scout 2.5x28mm
Click Value: 1/4 MOA
Weight: 7.5 oz
Light;
Compact;
Durable;
Water proof, fog proof, shock proof;
Quick target acquisition.
Not as reliable as higher priced scopes. (If you're hunting very dangerous game, this should be a backup.)
The new FX line is Leupold's fixed power, 4-star line. These are deluxe scopes with proven durability, which are built to last for decades. 
FX-II series scopes are comparable to the VX-II variable power scopes, and receive Leupold's Multi-coat 4 lens coatings on all lens surfaces. 
Leupold scopes come with full lifetime warranty, which shows their confidence in the durability of their scopes.
All of Leupold's FX scopes are sealed against moisture and nitrogen filled, making them waterproof and fog free; two things an SBL scope must be.
The scope has a Duplex reticle, which in my opinion, is the best reticle of all time for lever action rifles. (By the way, the Duplex was invented by Leupold!)
This scope offers excellent definition and contrast. Sharpness from center to edge is very good. 
Lens flare is well suppressed. 
Everyone who tried this scope during our testing commented on its excellent optics. 
It is a good looking, simple, and rugged scope. Neither recoil nor inclement weather has had any effect on it.
Some people use their SBL to hunt dangerous game.
Those people might be wondering if this Leupold is reliable enough to use on those trips. The answer I got after testing this scope was a resounding "YES"!
It is simple to use, incredibly durable, and backed by Leupold's intensive scope testing process. I would feel very confident putting my life in the hands of this scope.
Overall, the Leupold FX-II Scout 2.5x28mm (See at Amazon) is a beautiful budget scope for a Marlin 1895 SBL that you can actually trust, as it's likely the most reliable scope in its price range!
ALSO READ: "Best Binoculars for Elk Hunting"
3. Bushnell Elite 4200 1.25-4 x 24 Riflescope
Best scout scope for a Marlin 1895 SBL (best value for hunting dangerous game).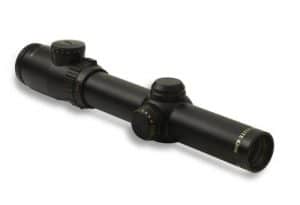 (View on Amazon to see the scope's specs)
Dry nitrogen and O-ring make scope water and fog proof. Rainguard aids vision;
FireFly feature useful in low-light situations; mil dot reticle;
Strong immunity to recoil;
Fully multi-coated optics offer bright and clear vision;
Bulletproof Warranty & "No questions asked" one year replacement (U.S. customers only);
Crystal-clear optics;
Incredibly reliable.
Crosshairs on the mil dot reticle are a bit thick and somewhat annoying if you want to use the scope for non-tactical combat.
The Bushnell Elite 4200 is a favorite of most Marlin SBL owners, simply because it is one of the best fits for the powerful, short-range rifle.
One of the main things people love about the 4200 is the Rainguard. 
You never know when you might get caught in the rain, so Rainguard is great when hunting dangerous game to ensure you don't perish.
In case you were wondering; YES, Rainguard truly allows you to have a crystal-clear view while it's raining or fogging. 
Don't mistake the Rainguard for being only a moisture repellant. 
The lens also allows great light transmission and image brightness. 
The 4200 series boasts a remarkable rate of light transmission compared to other long eye relief scopes, especially in this price range.
Speaking of eye relief, this scope give you just enough of it to not scope you but still give you plenty of FOV.
One of the most impressive features of the Elite 4200 is its FireFly reticle. 
This feature is optionally available for most 4200 variants and is extremely useful in low light situations. 
What it does is illuminate your scope's crosshair after brief exposure to a flashlight beam.
To top that, this feature isn't battery powered which eliminates the possibility of it not working due to battery failure. (On the downside, the crosshairs on the mil dot reticle may be described a bit thick.)
The Elite 4200 offers high-quality optics and its good contrast adds to a crisp view. It effectively curbs flare and optical aberrations which are not so uncommon in most other riflescopes.
In addition, the most impressive feature regarding this scope's optics is that the vision remains very clear and bright under all circumstances.
In fact, the Elite 4200 boasts 95% light transmission and claims to deliver a brighter image than all of its competitors.
In the end, the Leupold VX-II might simply *fill* your needs, but the Bushnell Elite 4200 will make using your SBL an absolutely INCREDIBLE experience. In my opinion, it's very much worth the extra buck or two.
However, even the 4200 is outmatched and outclassed by the BEST scope on this list, which you can scroll down to see. 
With that being said, the 4200 is still a very reliable scope that will most likely fill all of your needs. This is definitely a primary scope, not a backup.
Overall, the Bushnell Elite 4200 1.25-4×24 (See at Amazon) is an AMAZING scope for a Marlin 1895 SBL. (It's one of the most well-liked scopes in the history of SBL scopes, in fact.)
4. Trijicon TR23 AccuPoint 5-20x50 Riflescope
Best scope on the market for a Marlin 1895 SBL (best value for a high budget).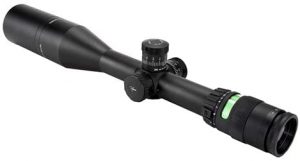 (View on Amazon to see the scope's specs)
Pretty much the absolute best scope for a Marlin 1895 SBL;
Will give you everything you're asking for in an SBL scope and then some;
Crystal-clear optics in all weather conditions;
So durable that it's almost unbreakable;
Multiple reticle options, all are excellent;
Battery-free;
Most reliable scope in this review. Not going to break or mess up while you're out, GUARANTEED;
The number one favorite scope of SBL users.
The Trijicon TR23 AccuPoint Riflescope is the favorite scope for almost all SBL owners.
Honestly, there is very little I can say about this scope to describe its greatness. 
You will just have to take my word for it and head over to Amazon and read the reviews because they speak for themselves.
If you did, you will see how many people LOVE this Trijicon scope.
A Few Words on the Marlin 1895 SBL
The Marlin 1985 SBL is a very powerful rifle that reminds me of the types of guns that my grandpa owned. 
I love rapid firing with the Marlin's lever action design because of how much punch is behind every bullet.
The models of Marlin 1895 rifles that are available to purchase at the moment include the original 1895, 1895 trapper, 1895CB (cowboy), 1895CBA, 1895G, 1895GBL, 1895GS, and, of course, the 1895 SBL models. 
With the best scope for your Marlin 1895 SBL, it becomes an exciting gun to shoot and a viable option for use in the field. 
Just remember to buy a scope that emphasizes the Marlin's strengths and negates its weaknesses!
ALSO READ: "The Best Scope for a Savage 220 (Top 4)"
That wraps up Optics Empire's list of the all-time best scopes for your Marlin 1895 SBL.
If you found this article helpful, don't forget to share it with your friends and family.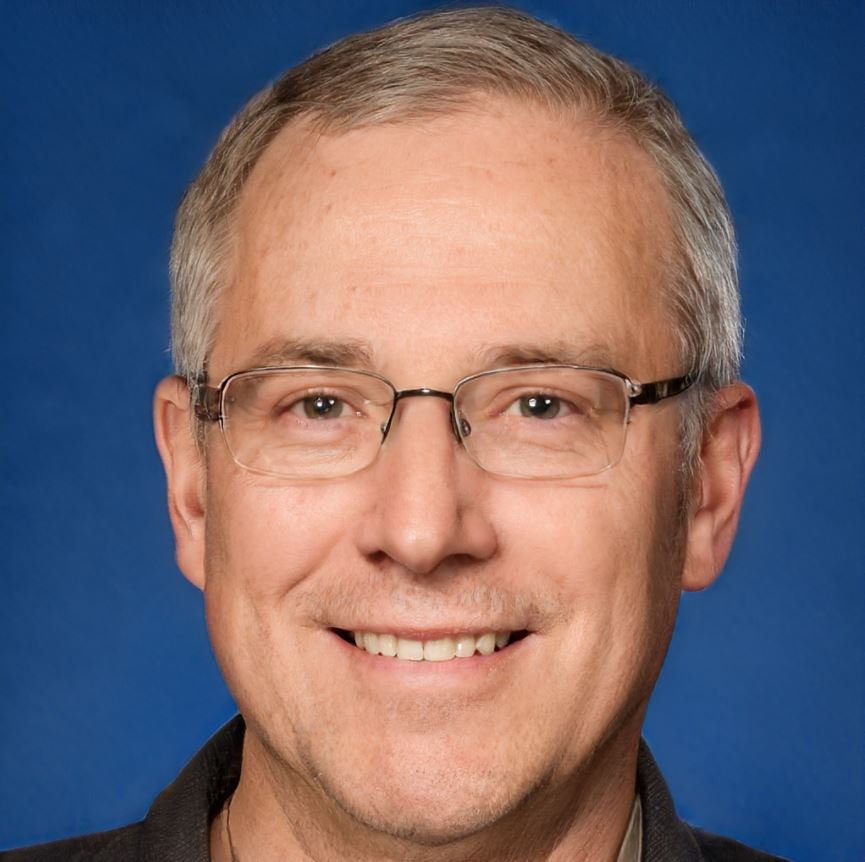 About The Author:
Hi! I'm Will Scott, the author of this post. I'm an outdoor enthusiast with over 10 years experience. I love trying out new gear and reviewing it so that other adventurers can get the most out of their experiences. I hope you've found my website informative, educational and helpful.