Welcome to my article about the best binoculars for hiking!
Below I'll go through reviews of the top 6 binoculars on the market today, along with pros and cons for each. Below that, I'll also discuss the important aspects of a binocular to consider when selecting the right one for hiking.
But first, a quick comparison table of the top models so that you can easily see how they compare side by side, and a summary of the models that I recommend!
The Best Binoculars For Hiking Are:
Bushnell H2O Roof Prism Binoculars
Adasion 12×42 High Definition Binoculars
Pankoo 12×42 HD Binoculars (Most Affordable)
Nikon Trailblazer 8×25 Binoculars (Most Lightweight)
Nikon Prostaff 3S 8×42 Binoculars
Vortex Optics Diamondback 10 x 42 Binoculars (Best Overall)
If you're looking for the most budget friendly binoculars for hiking, go with the Pankoo 12×42. These offer incredible performance and image quality for an extremely low price.
The most lightweight binoculars in this list is the Nikon Trailblazer. At under 1 pound in weight, you'll be able to walk all day and not realise you've got these with you.
However, if you're looking to purchase a pair of hiking binoculars that will last you many years and provide exceptional viewing quality, my recommendation is the Vortex Optics Diamondback. These binoculars cost a few hundred dollars, but the investment is 100% worth it considering their durability and performance.
Best Binoculars For Hiking Comparison Table
Here you can quickly and easily compare each hiking binocular side by side.
If you're on mobile, scroll across the table with your finger!
6 Best Binoculars For Hiking Reviews
Now let's get into the detailed features, performance, pros and cons of each of the top 6 hiking binoculars on the market today!
Bushnell H2O Roof Prism Binoculars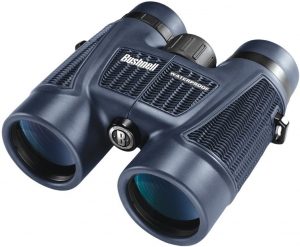 The Bushnell H2O Binoculars have a stylish blue design and durable build, making them a great choice for hiking.
The rubber armor and soft textured grip are strong enough to absorb shock, plus keep the binoculars firmly in your hands at all times.
They are O-ring sealed and nitrogen-purged, making them fully water and fog proof for all weather conditions.
The combination of BaK 4 prisms and multi-coated optics give you bright, crisp images, no matter what you're looking at. The large center focus knob makes it easy to adjust whenever needed.
The twist-up eyecups offer comfortable viewing for those who wear glasses, so you don't need to remove them for clear viewing.
There are 8×42 and 10×42 options available, both of which include a neck strap and a soft carry case.
PROS
Decent price
Water and fog-proof
Non-slip rubber armor
CONS
Not great for low-light conditions
Adasion 12×42 High Definition Binoculars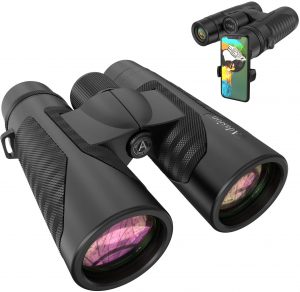 If you are looking for some powerful binoculars for hiking that don't cost a fortune, the Adasion 12×42 High Definition Binoculars are a great option.
These are lightweight at about 1.25 lbs and include some handy accessories, including a strap, carry case, and instructions.
A universal phone adapter also comes with these binoculars for taking some amazing photographs, though it can be a bit loose and awkward to use without some sort of support. Luckily, these binoculars also have a tripod interface for stable viewing when needed.
These binoculars feature 16.5mm Bak4 prisms for crisp, clear views and 42 mm objective lenses for better light transmission. They have a decent field of view of about 367 feet per 1000 yards.
They also include waterproofing, fog-proofing, fully multi-coated lenses, and adjustable eyecups.
PROS
Fully multi-coated lenses
Lightweight
Budget-friendly price
CONS
Loose phone adapter attachment
Pankoo 12×42 HD Binoculars
Most Affordable!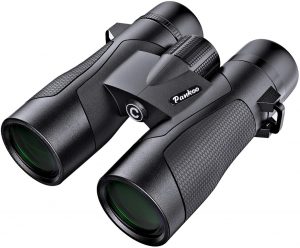 The Pankoo 12×42 HD Binoculars are powerful, yet compact, so they can fit in a backpack without sacrificing the space needed for your other hiking gear.
They are also lightweight at just under 2 pounds, so they don't cause any unnecessary strain, even when used with the included neck strap.
These binoculars have several great features, including the metal body with a textured rubber finish for shock-resistance, durability, and a firm grip.
They have 12x magnification, 42 mm objective lenses, and BaK4 Prisms. These work together to give you large, crisp images and a huge FOV of 374 feet at 1000 yards. The lenses are also fully multi-coated for brighter views.
Other great features that these binoculars have to offer are waterproofing, fog-proofing, dust-proofing, a tripod interface, and a lifetime warranty.
A neck strap and carry case are included.
The best feature, however, is how affordable these binoculars are. At around $50, they offer excellent value for money.
If you're looking for a beginner's pair of hiking binoculars, or only go on trips once in a while, these are the binoculars I'd recommend.
PROS
Durable build
Lifetime warranty
Easy adjustments
Incredibly affordable
CONS
A bit small for large hands
Nikon Trailblazer 8×25 Binoculars
Most Lightweight!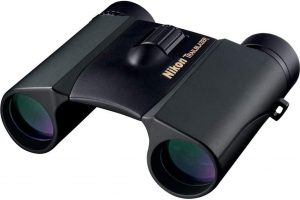 For hiking, a lightweight, compact pair of binoculars that still give you amazing views is a must. This pair is extremely light at less than a pound but also has the added convenience of folding down into a more compact package.
This makes them small enough to tuck into a backpack or even a large coat pocket to keep them close at hand.
Of course, these binoculars are more than just small and easy to carry.
They offer 8x magnification, 25 mm objective lenses, anti-reflective fully multi-coated optics, BaK4 roof prisms, and a huge FOV of 429 feet at 1000 yards.
The central focus knob is easy to adjust, even for beginners.
There are also twist-out eyecups, though they don't lock in place, so you may need to reset them each time you use the binoculars.
If you go on long hikes where every pound of gear counts, these are the binoculars I'd recommend getting.
PROS
Nitrogen-purged
Extremely lightweight
Foldable body
CONS
No tripod mount
Non-locking twist-out eyecups
Nikon Prostaff 3S 8×42 Binoculars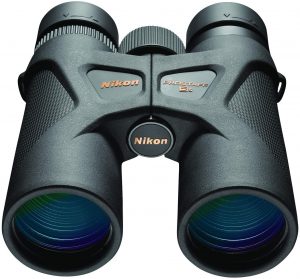 The Nikon Prostaff 3S is built to last, with features that give you fantastic views of anything you see on the trail.
They are made using durable plastic, with a rugged rubber-armored coating, which creates a non-slip grip that won't fail, even in damp conditions.
They are also waterproof and fog-proof for extra durability and performance.
The optical system used for these binoculars is made from Eco-glass, which is free of both lead and arsenic.
They feature multi-layer coatings for better light transmission and brighter images.
There are also silver-alloy mirror coatings on the roof prisms, which increase brightness and provide clear views.
The turn-and-slide rubber eyecups, 20mm eye relief, FOV of 377 feet at 1000 yards, and central focus knob are also handy features worth noting.
PROS
Water and fog-proof
Silver-alloy mirror prism coatings
Eco-glass lenses
CONS
Tight focusing knobs
Lens caps don't attach to binoculars
Vortex Optics Diamondback 10×42 Binoculars
Best Overall and My Top Choice!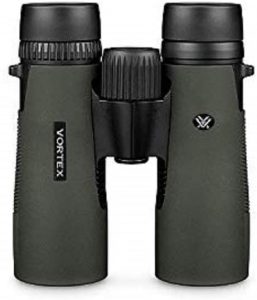 Though they're a bit more expensive than the other hiking models mentioned in this list, the Vortex Optics Diamondback binoculars are the best performing pair and the top ones I'd recommend overall.
These binoculars feature 10x magnification, with 42 mm objective lenses to give you large, clear views of anything you want to see.
The dielectric, fully multi-coated lenses improve light transmission for increased clarity and brightness.
The body has waterproof rubber armor with thumb indents for a comfortable and secure grip. There is also a short hinge design for more hand room.
Multi-position eyecups allow you to adjust the eye relief, while a right eye diopter lets you customize the focus as needed. They are also nitrogen-purged to reduce fogging, even on the most humid summer days.
If you're looking for a pair of binoculars for hiking that will last for many years to come, I recommend the Vortex Optics Diamondbacks.
PROS
Short hinge design
Nitrogen-purging
Right eye diopter
Excellent performance
Great value for money
CONS
Loose lens cover attachment
More expensive than other models
What To Look For in the Best Binoculars for Hiking
Size
Binoculars for hiking need to be somewhat compact to make them easier to carry with you.
You may not need them all the time, so a smaller pair that fits in a backpack without sacrificing room for other necessary gear is a must.
Smaller binoculars still have decent features, so you won`t be losing out by picking a more compact pair.
Weight
The weight of your binoculars is another important factor since the heavier they are, the more difficult they'll be to carry.
More weight on your back or neck will cause excess strain, plus it will tire you out while you're on those long hikes.
That's why a lightweight pair of 2 pounds or less is a good choice for any of the hikes you have in mind.
Waterproofing
Even if you check the weather before you leave, you may still end up dealing with some rainy conditions.
There could also be streams that you need to cross at some point, depending on the area you're hiking in.
Though you can protect your binoculars as much as possible, they may get wet at some point. Waterproofing will prevent damage when this happens.
Check for an IPX rating of at least 4 for splash resistance and 8 for submergible models.
Fog-proofing
Humid conditions can create steam inside your binoculars that can ruin your vision.
That's why the best binoculars have replaced the air in the binoculars with an inert gas.
Nitrogen purging is the most common, due to the low cost of this gas.
Argon purging also offers better performance, though it is more expensive, so it likely won't be available on the budget-friendly models.
If you go for hiking often, I'd recommend investing in the Argon to ensure you get the most out of your binoculars.
Eye Relief
Eye relief is a good feature to check out for those who wear glasses, though it also benefits those with perfect vision.
It is measured by the distance between your eyes and the ocular lens, which can affect how clearly you can see through the binoculars.
Eye relief can have a range of only a couple of millimeters to 25 mm, though 15 to 18 mm is a good range for clear views with no dark borders.
Magnification
The magnification of good hiking binoculars varies depending on what you want to see.
The higher the number, the closer the object you want to see will look, so if you're interested in the scenery, a magnification of 7x or 8x is perfect.
If you want to see wildlife or birds on your hike, 10x would give you a better view of specific details.
Don't go over 12x, though, unless you also want to carry a tripod with you to reduce shaky images from even slight movements.
Field of View
The field of view refers to the area you can see when looking through the binoculars. It is usually described in terms of the number of feet viewed at 1000 yards.
If you're looking at smaller stationary objects during your hike, a narrow FOV offers sharper focus.
This doesn't help with moving objects or larger areas, though, so for these views, a larger FOV is a must.
Objective Lens Diameter
When checking out binoculars, you'll notice numbers like 10×25.
As we discussed above, the 10x would refer to the magnification.
The second number is the objective lens diameter, which refers to the size of the front binocular lens.
The larger the lens, the more light they let through for brighter images, though this also adds weight to the binoculars.
If you go for hikes during the daytime when there's plenty of light, a smaller objective lens is fine.
However, if you often hike during sunrise or sunset, investing in a pair of binoculars with larger objective lenses might be worth the extra weight.
Accessories
Many binoculars for hiking include some handy accessories.
These can include neck straps, carry cases, tripod adapters, and soft cleaning cloths.
The more there is included with the binoculars, the less you need to purchase separately.
However, it's also good to be mindful to not bring too many unnecessary accessories with you, as these will only add to the weight you have to carry while hiking.
Best Binoculars for Hiking – Conclusion
I hope you've found my article about the best binoculars for hiking useful and informative! Here are some related articles you may also enjoy:
Vortex Viper vs Razor Binoculars
Best Budget Binoculars for Birding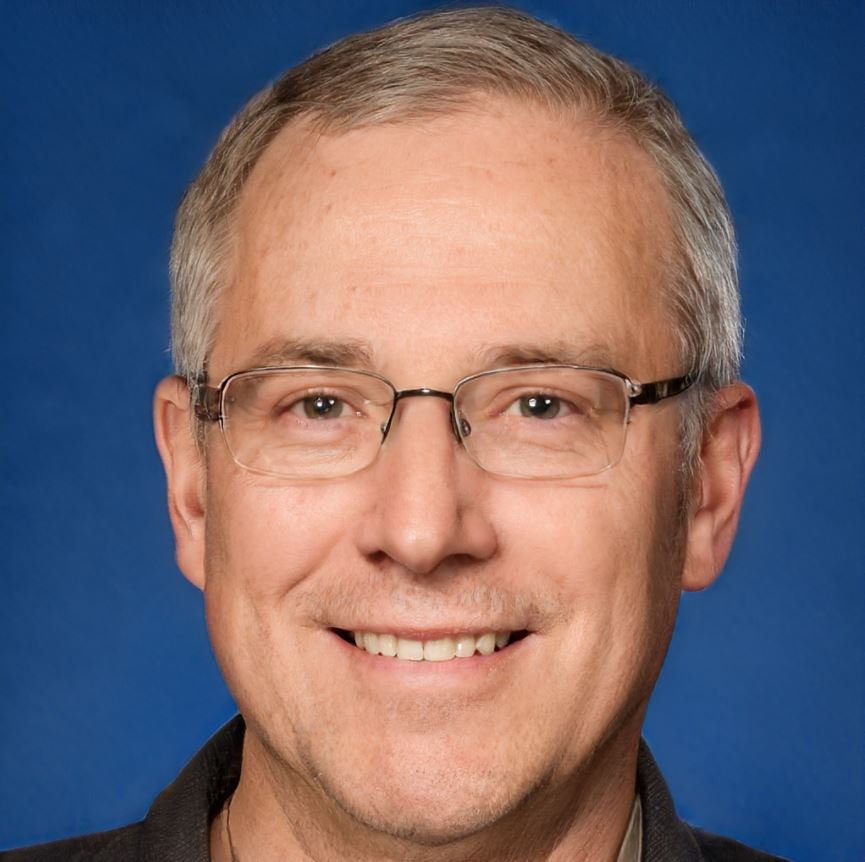 About The Author:
Hi! I'm Will Scott, the author of this post. I'm an outdoor enthusiast with over 10 years experience. I love trying out new gear and reviewing it so that other adventurers can get the most out of their experiences. I hope you've found my website informative, educational and helpful.