Welcome to my article about the best binoculars for long distance!
Below I'll go through the features, pros and cons of the top 6 long distance binoculars, plus a run down of the important features you need to keep in mind when looking for the right one to purchase.
But first, a quick summary of the top models and a comparison table so you can compare them side by side.
The Best Binoculars for Long Distance Are:
Nikon 8252 Aculon A211 10×20-50 (Most Versatile)
Nikon 8250 Aculon A211 16×50
Celestron Cometron 7×50 Binoculars (Most Affordable)
Orion 54164 20×80 Astronomy Binoculars
Swarovski Optik 15×56 Binoculars (Luxury Option)
Vortex Optics Diamondback 15×56 HD Binoculars (Best Overall)
Out of the list above, the most affordable option is the Celestron Cometron binoculars. At under $50, these offer great value for money, and are a good choice for those who want an affordable pair of binoculars for casual long distance viewing.
The most versatile option is the Nikon 8252, due to their adjustable magnification. This makes them suitable for activities ranging from general wildlife viewing to looking at the stars. If you're someone who is always on a different kind of adventure and wants a pair of binoculars that will keep up, I recommend this pair.
The most luxury option is the Swarovski Optiks. These binoculars don't come cheap, but if you're looking for a top-of-the-line pair to enjoy using for decades to come, these won't disappoint. The crystal clear image particularly over long distances and the quality, sturdy build make them worth every dollar.
Finally, the best long distance binoculars overall for this article are the Vortex Optics Diamondbacks. For their price, they offer superb viewing and bright, crystal clear images over long distances. If you're not ready to spend a few thousand dollars but still want to invest in a high quality, durable and reliable pair of binoculars, these are the ones I recommend.
Best Binoculars for Long Distance Comparison Table
Here is a quick-view table so you can compare each binocular side by side.
If you're on mobile, scroll across the table with your finger!
Best 6 Long Distance Binoculars Reviews
Nikon 8252 Aculon A211 10-22×50 Zoom Binoculars
Most Versatile Option!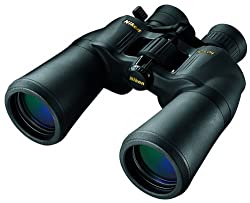 The Aculon A211 binoculars from Nikon have a variety of great features that makes them a versatile option for many different viewing scenarios.
A zoom lever mounted on the eyepiece lets you alter the zoom from 10x to 22x, depending on what you're looking at, making them a great option for activities ranging from long distance wildlife viewing to looking at the stars.
There is a central focus knob that moves smoothly for quick focus adjustments.
There are also multi-coated eco-glass lenses that give you bright, clear images, no matter what time of day it is.
Other features that the Aculon A211 has to offer are the turn-and-slide eyecups for quick eye relief alterations, the rubber-armored coating for a non-slip grip, and the waterproofing for viewing in damp weather.
They are tripod-compatible and include a handy carry case.
The lens caps aren't the best quality, though, so they don't fit well on the binoculars.
PROS
Adjustable eyecups
Simple zoom controls
Multi-coated eco-glass lenses
Adjustable magnification makes them great for a range of activities
Nikon 8250 Aculon A211 16×50 Binoculars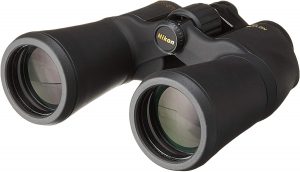 The Nikon Aculon A211 1650 Binoculars are highly durable, thanks to the sturdy, waterproof materials and rubber-armored coating that offers a non-slip grip.
These are also rather light at about 2 pounds, with an ergonomic design that makes them comfortable to hold.
The combination of Bak4 Porro prisms and aspherical multi-coated eco-glass lenses ensures bright, clear images, even in low-light conditions.
Turn-and-slide rubber eyecups can be adjusted to ensure comfortable viewing for those with or without glasses.
There is a smooth central focus knob that offers quick adjustments to keep everything you want to see in focus.
These binoculars also include a tripod adapter, neck strap, soft carry bag, and lens caps, though the caps don't fit well and may fall off.
The binoculars are also quite bulky compared to other models.
PROS
Lightweight
Smooth central focus knob
Good for low-light conditions
CONS
Low-quality lens caps
Large size
Celestron Cometron 7×50 Binoculars
Most Affordable Option!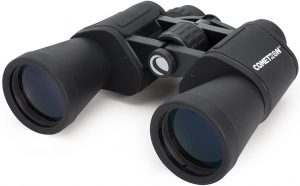 The Cometron 7×50 Binoculars from Celestron are an incredibly affordable pair designed for beginners to the world of astronomy.
They feature large 50mm objective lenses, which can gather a great deal of light, even during the night, bringing those celestial bodies into clear focus.
These binoculars also have a wide field of view of 357 feet at 1000 yards, so you can see more of the sky without moving.
These binoculars also have other great features, including multi-coated lenses for better light transmission and brighter views.
The durable aluminum housing can handle some rough use, plus it is water-resistant, though not fully waterproof, so they are best used with minimal moisture.
Included with the binoculars are covers for the objective and eyepiece lenses, a lens cloth, a neck strap, and a carry case.
Considering their extremely affordable price, the Cometron 7×50's are excellent value for money and the perfect option for those who want a starter pair of long distance binoculars.
PROS
Great low price
Wide field of view
Aluminum housing
Perfect for beginners
CONS
Have to pay extra for a tripod adapter
Orion 54164 20×80 Astronomy Binoculars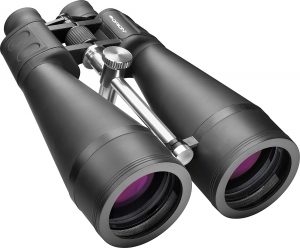 These binoculars from Orion are designed for astronomy, though you can use them for any type of distance viewing that you have in mind.
They are quite large, due to the 80mm lenses for a decent field of view and bright night views with amazing resolution.
The BaK4 Porro prisms and fully multi-coated lenses work together to increase light transmission for clear views of all the celestial bodies that you want to check out.
These binoculars are quite heavy at over 4 pounds, so there is a built-in tripod adapter that can be used with a variety of tripods.
This takes the weight off of your arms and wrists, plus it keeps the binoculars steady for long viewing sessions.
A soft carry case and lens covers are included to protect the binoculars between uses.
PROS
Built-in tripod adapter
Fully multi-coated optics
Durable materials
Swarovski Optik 15×56 Binoculars
Best Luxury Option!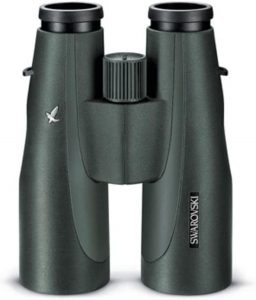 The Swarovski Optik 15×56 Binoculars are the top-of-the-line long distance binoculars. They don't come cheap, but their superb image quality and luxury feel make them worth every penny.
At about 2.6 pounds, they are also surprisingly light, making them great for travelling with.
This model uses Swarovision Technology, which includes fluoride-containing HD lenses with optimized coatings.
Together, these reduce color fringing and increase the brightness to give you crisp, clear images and true-to-life colors.
There is a decent field of view of 234 feet at 1000 yards, even for those wearing glasses, thanks to the large eye relief.
The rugged, water-resistant housing has an ergonomic design that makes them luxurious to hold, plus it includes a handy strap with a rotating connector for smooth movements and less twisting.
The lens caps attach to the bottom of the lenses, so you never have to worry about losing them.
If you have the money to invest, I'd recommend opting for these binoculars. The image quality is second to none and you'll get years of enjoyment using them.
PROS
HD optical system
Large eye relief
Durable, quality construction
Superior image quality
Luxury look and feel
Lifetime warranty
Vortex Optics Diamondback 15×56 HD Binoculars
Best Overall Option!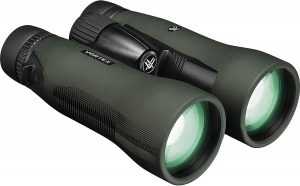 These binoculars by Vortex Optics are the best in this article in my opinion. They perform
extremely rugged, thanks to the rubber armor with a textured grip and an ergonomic design that keeps it firmly in your hands. Their quality, durable build makes them great for off-road adventures and tough conditions.
The Diamondback 15×56 binoculars are also argon-purged and O-ring sealed for water- and fog-proofing, keeping your vision clear in all weather conditions.
There is also a tripod adapter included for hands-free use.
The lenses are fully multi-coated for better light transmission, plus there are anti-reflective coatings to reduce glare.
Dielectric coatings ensure the clearest, brightest images possible while Armortek coatings prevent scratches, oil, and dirt from accumulating on the lens' exterior.
The binoculars also feature a center focus wheel, a right eyepiece diopter, twist-up eyecups, adjustable barrels to match the distance between your eyes, a removable GlassPak harness, and a soft carry bag.
PROS
Fully multi-coated lenses
Argon purged
Twist-up eyecups
Extremely durable
Features to Look For in Binoculars for Long Distance
When choosing binoculars for long-distance viewing, there are a few features that you may want to consider.
Magnification
Binoculars will always include numbers in their descriptions that are displayed as 10×50 or 20×80.
The first number refers to the magnification, which tells you how large whatever you're viewing will be when looking through the binoculars. The higher the number, the larger the images.
Though this may sound good, you don't want too high of a magnification since higher levels do add weight to your binoculars, making them heavier to hold, especially for long viewing sessions.
Some binoculars also have variable magnification, also known as zoom. This allows you to increase or decrease the magnification, depending on how far the object you're viewing is from your location.
As a rule of thumb, it's best to purchase binoculars that have a magnification most suitable to the average distance you'll be viewing, as this will ensure you get the best images without unnecessary weight. Alternatively, if you will be using your binoculars for a variety of activities (such as wildlife viewing and astronomy), opt for a variable magnification.
Objective Lens Diameter
The second number in the binocular specifications, like 10×50, refers to the objective lens diameter.
In this case, the lenses would have a diameter of 50mm.
The larger the lenses are, the more light they will gather, which increases the brightness of the images you're viewing.
This also affects image quality, so everything you view will be crystal clear.
Lens Coatings
Lens coatings are another important feature to consider with any type of binoculars, including those for long distance.
The coatings improve light transmission for better clarity and realistic colors.
There are three main coating options to choose from, including coated, multi-coated, and fully multi-coated.
The higher the coating level, the more surfaces there are that have received the coating and the better the image quality will be.
Field of View
The field of view tells you the amount of area that you can view through the binoculars without moving them. It is measured in feet at 1000 yards, so the higher the number, the wider the area you can see.
Of course, the magnification can affect the FOV since higher magnifications create narrower views.
What you want to see will determine how wide a FOV you need.
For instance, if you're interested in looking at scenery, you may want to stick with a lower magnification and a wider FOV for a larger view of the area.
Those looking at objects in space, like stars, galaxies, or planets, may want a larger magnification with a low FOV to focus easier on specific targets.
Eye Relief
Binocular eye relief is the distance between your eye and the lenses when you're looking through them.
The larger the eye relief, the more space there is, which is essential for those who wear glasses since this means they don't need to remove them to look through the binoculars.
Many binoculars also include adjustable eyecups, which can alter the eye relief.
Durability
There are a few factors that can affect the durability of a pair of binoculars.
One is the material used to make the binoculars.
There are a few options to pick from. Aluminum is common since it is inexpensive, lightweight, and weather-resistant. It also resists corrosion and rust, so it's a great choice for damp conditions.
Polycarbonate is a higher quality material that is more durable than aluminum, plus it's temperature-resistant and offers more protection to the lenses. Of course, this comes with a higher cost.
For a premium pair of binoculars, magnesium is the best choice. This material is strong enough to handle a fall and is waterproof up to a certain depth.
Magnesium is also lighter than polycarbonate, making it a better choice for travel. The downside is that it is the most expensive option.
Weight
The weight of your chosen binoculars determines how you'll use them.
If you're hiking or camping, you'll be required to carry the binoculars with you, which can be tiring with a heavy pair.
Spending a long time gazing at the stars can also be hard on your arms if you have to hold a heavy pair, so a lighter one is best unless you plan to use a tripod.
Accessories
There are a few accessories to watch for with binoculars.
First, a tripod adapter is a must for hands-free use. A comfortable neck strap is also handy between viewings.
You also may want to look for decent lens covers, lens cloths, rain guards, and a carry case to keep the binoculars clean and protected.
Best Binoculars for Long Distance: Conclusion
I hope you've enjoyed this article about the best binoculars for long distance! As you can see, there are a range of quality long distance binoculars on the market, priced from under $50 to well over $2000.
The right one for you will depend on the kind of performance you're after and how much you're willing to invest. After reading this article, I hope you've now got a clear idea of the right model for you.
Here are some other articles you may also find interesting:
Best Binoculars for Hiking
Best Night Vision Binoculars Under $100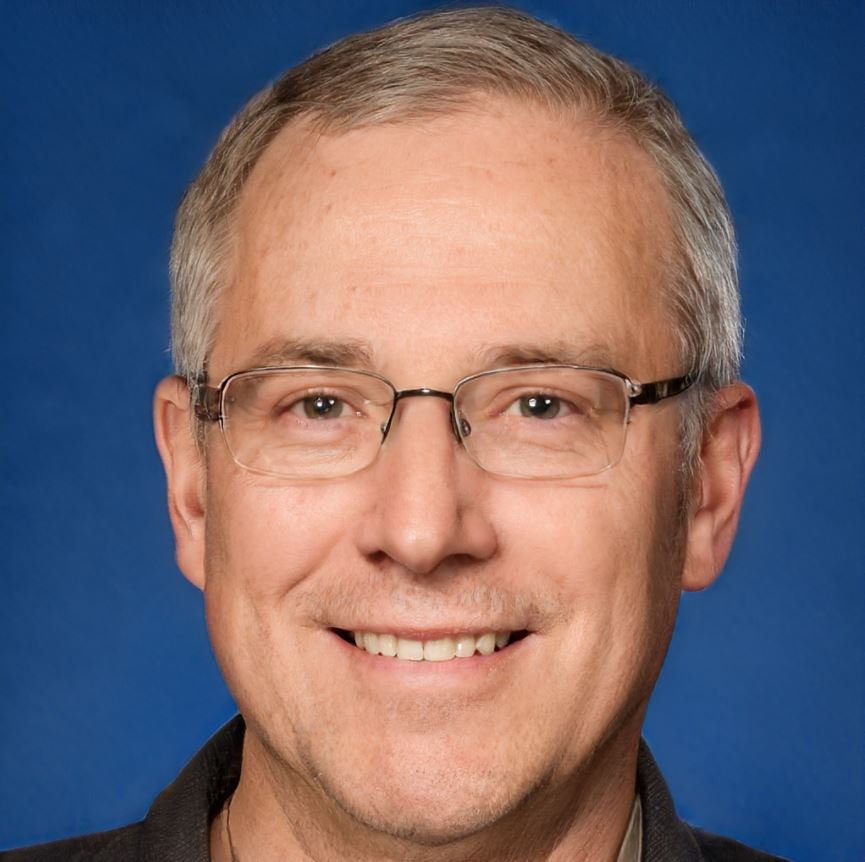 About The Author:
Hi! I'm Will Scott, the author of this post. I'm an outdoor enthusiast with over 10 years experience. I love trying out new gear and reviewing it so that other adventurers can get the most out of their experiences. I hope you've found my website informative, educational and helpful.