Welcome to my article about the best binoculars for whale watching!
Below I go through the top 8 best binoculars for whale watching from the shore and a boat, along with pros and cons for each.
But first, a quick note on the binoculars listed in this article, and a comparison table so you can quickly identify which model might be the right one for you. Let's get started.
A Note On The Binoculars Listed In This Article
There are two places you can watch whales from – a beach or shoreline, and a boat.
The whales are further away when viewed from the shore, so for this viewpoint we've reviewed binoculars with higher magnification (10x to 12x), so you can still see the whales clearly.
From a boat, the whales are much closer, so a pair of binoculars with a lower magnification (7x to 8x) but wider field of view is best. As such, we've selected binoculars that fit these specifications and included them in our article for this section.
You will find the best binoculars for both kinds of whale watching reviewed below. All you need to do is jump to the section that is most appropriate for you.
Or, if you're not sure where you'll be viewing whales from yet, you can read both sections to get a good idea of the range of binoculars out there!
Another thing to note is the price – binoculars with a higher magnification are typically more expensive than those of a lower magnification. This is because higher magnification requires more sophisticated lenses and coatings.
Ultimately a magnification of around 8 to 10 would work well enough for both shoreline and boat viewing, so if you're on a budget or expect to watch whales from either viewpoint, and you're not too fussed about impeccable image quality, this would be the magnification I recommend.
Alternatively, if you have a bit of money to spend and know you'll be watching whales exclusively from land, then I recommend investing in a pair with high magnification that will be perfectly suited to your requirements.
Now let's dive into the top binoculars for whale watching on the market!
The Best Binoculars for Whale Watching Are:
From The Shoreline
Nikon 7246 Action 12×50 Binoculars
Nikon 7245 Action 10×50 Binoculars (Most Affordable)
Vortex Optics Diamondback 10×50 Binoculars (Second Choice)
Toric UHD 12.5×50 Long Range Binoculars (Best Overall)
From the list above, the Toric UDH Binoculars would be my top pick for the best binoculars for whale watching from the shoreline. Whilst they're not the cheapest pair, you get what you pay for, and these binoculars provide incredibly clear images of whales from a large distance.
My close second choice is the Vortex Optics Diamondback. These binoculars are a fraction of the cost of the Toric's, but for the price still offer the ability to see whales very clearly.
If you're looking for the most affordable pair, go for the Nikon 7245. These binoculars offer excellent value for money, and will serve you well for casual whale watching.
From A Boat
Bushnell H2O 8×42 Binoculars (Most Affordable)
Steiner 7×50 Navigator Binoculars
Slightron 8×32 Binoculars (Second Choice)
Athlon Optics Midas 8×42 Binoculars (Best Overall)
The Athlon Optics Midas are the best quality binoculars for whale watching from a boat, and the top ones I recommend out of this list.
A close second are the Slightron Binoculars, which are slightly more affordable but still provide excellent image quality.
The most affordable binoculars are the Bushnell H20. These are a great option for those who aren't serious about whale watching and want a pair of binoculars that will work well without breaking the bank.
Best Binoculars For Whale Watching Comparison Tables
From The Shoreline
If you're on mobile, scroll across the table with your finger!
From A Boat
If you're on mobile, scroll across the table with your finger!
4 Best Binoculars for Whale Watching From the Shore
Nikon 7246 Action 12×50 Binoculars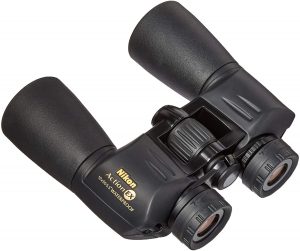 The Nikon 7246 binoculars are quite rugged, with an all-metal chassis and a polycarbonate shell to keep them lightweight and a rubber coating for a non-slip grip, even with damp hands.
They are nitrogen-filled and O-ring sealed for waterproofing and fog-proofing to ensure clear viewing in all types of weather.
Other great features include the multi-coated lenses, BaK4 high index prisms, long eye relief, and click-stop, twist-out eyecups for quick customization.
The smooth central focus knob lets you adjust the focus quickly and easily.
These are the most affordable binoculars for whale watching from the shore, and offer excellent image quality and powerful magnification for the price. They're great value and my top recommended pair if you're looking for casual whale watching binoculars that aren't too expensive.
PROS
Waterproof
Non-slip grip
Multi-coated lenses
Highly affordable
Incredibly light weight
Nikon 7245 10×50 Binoculars
Most Affordable!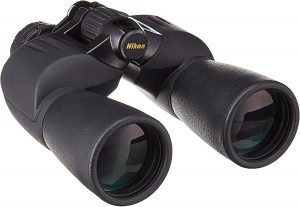 The Nikon Action 10×50 Extreme All-Terrain Binoculars are perfect for whale-watching, thanks to features like the BaK4 high index prisms and bright multi-coated lenses for increased brightness and resolution, even in low light conditions.
They also include click-stop, twist-out eyecups and long eye relief, so you can customize them for your eyes, even when wearing glasses.
These binoculars are also quite durable, thanks to the all-metal chassis, polycarbonate shell, and non-slip rubber coating.
They are also waterproof, fog-proof, and shockproof, so are great for all conditions and terrain.
Finally, they have a particularly wide field of view for such high magnification which lets you see a lot of area in front of you, making it less likely you'll miss a whale breaching!
PROS
Lightweight
Ergonomic design
Nitrogen-filled
Wide field of view
Incredibly light weight
Vortex Optics Diamondback 10×50 HD Binoculars
Excellent Second Choice!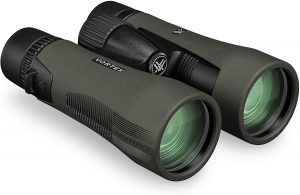 The Diamondback 10X50 HD Binoculars are lightweight at less than 2 pounds, so are perfect for long days watching whales from the shore.
This model features fully multi-coated lenses, anti-reflective coatings, dielectric coatings, and Armortek coatings. Together, these improve light transmission, brighten colors, and protect against scratches, dirt, and oil.
These binoculars also include twist-up eyecups, a central focus wheel, and a right diopter.
They are rugged, with a non-slip rubber armor grip, plus are shockproof, waterproof, and fog-proof. The roof prisms are also durable and ensure a compact size.
PROS
Tripod adaptable
Argon-purging
Fully multi-coated lenses
CONS
Minor chromatic aberration
Toric 12.5×50 UHD Long Range Binoculars
Best Overall!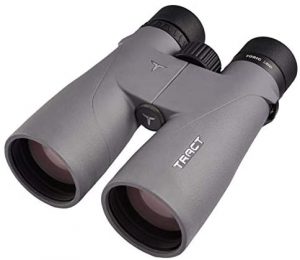 The Toric UHD Binoculars have a magnification of 12.5×50 for long-range views of those amazing aquatic mammals.
It has a specialized eyecup design, which includes an all-steel construction, rounded edges for increased comfort, and multi-stop positioning to keep them in place.
The central focus knob is easy to use and the locking diopter prevents accidental adjustments for consistent focusing.
The Ultra High Definition technology includes premium Schott HT Glass, an ED lens, flat multi-coating, phase correction coating, and dielectric prism coating, which combined give you great low light performance and fantastic resolution.
Although these binoculars are not cheap, they provide superior image quality, and are my top choice for binoculars for whale watching from the shore. If you have a bit of money to invest, these are the ones I'd recommend.
PROS
Specialized eyecup design
UHD technology
Lightweight
Excellent image quality
High power magnification
4 Best Binoculars for Whale Watching From a Boat
Bushnell H2O 8×42 Roof Prism Binoculars
Most Affordable!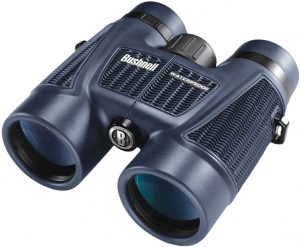 The H2O binoculars from Bushnell feature 8×42 magnification and a wide FOV of 409 feet at 1000 yards, so you don't miss a second of action when whale watching.
The combination of BaK4 roof prisms and multi-coated optics ensures that you have bright, clear views and excellent light transmission.
These binoculars include twist-up eyecups and 17 mm eye relief, so are great for those with or without eyeglasses. Other features include nitrogen purging, O-ring seals, and non-slip rubber armor.
These are highly affordable binoculars that still offer great image quality. I recommend these for anyone who goes out on a boat to whale watch now and then, and is looking for an affordable, easy-to-use pair of binoculars that work well without the bells and whistles.
PROS
Great low price
Huge field of view
Waterproof
CONS
Case is too snug
Tight focus knob
Steiner Navigator Pro 7×50 Binoculars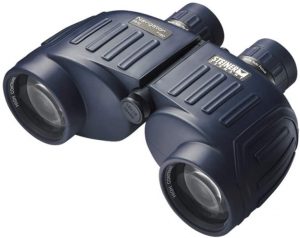 The Steiner Navigator Pro 7×50 binoculars are quite light, thanks to the Makrolon housing made of polycarbonate, with NBR Long Life rubber armoring to increase durability.
They also include a floating prism system that includes a flexible silicone mount for shock absorption, even if you're a bit rough with them.
These binoculars also feature the Sports-Auto Focus System for quick focusing and High Contrast Optics for natural color definition and bright, sharp images.
The N2 Injection System uses 14 PSI pressurized dry nitrogen for fog-proofing in all temperatures.
PROS
Durable materials
Floating prism system
Fog-proof
Sightron SIIBL832 8×32 Binoculars
Close Second Choice!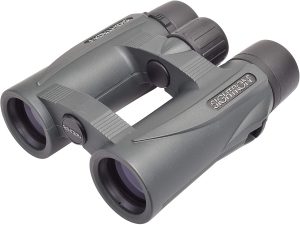 The Sightron SII Blue Sky 8×32 binoculars are built for rugged conditions, though they are still quite light at only 1.24 pounds.
They also have a great low price without skimping on features, making them my second choice out of the list of best binoculars for whale watching on a boat.
They have fully multi-coated lenses and BaK4 phase-coated prisms. These provide you with amazing resolution and high light transmission, so work well in all conditions, even when the light is low.
They are waterproof, fog-proof, and include twist-up eyecups for eyeglass wearers.
Included with the binoculars are a carry case, lens covers, and a neck strap.
PROS
Fully multi-coated lenses
Waterproof
Lightweight
Athlon Optics Midas 8×42 Binoculars
Best Overall!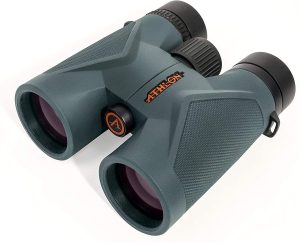 The Athlon Optics Midas 8×42 binoculars are extremely well-made, using ED glass for minimal chromatic fringing and sharper views of those whales.
The ESP dielectric coating on the prisms increases light transmission for brighter images and true-to-life colors.
The advanced fully multi-coated lenses increase the brightness and color reproduction even more for the most amazing views possible.
Their super high field of view allows you to see a lot of area in front of you at once, meaning that you won't miss any of the action while whale watching.
The Midas binoculars are argon purged to prevent fogging, no matter the temperature, plus they are waterproof for damp conditions. A magnesium chassis keeps them light while rubber armor gives you a firm grip.
These binoculars offer an outstanding image quality, and if you're looking to make a long-term investment, these are the binoculars I'd recommend.
PROS
ED glass
Argon purged
Fully multi-coated lenses
Excellent image quality
Highly durable
High field of view
CONS
Stiff focusing knob
Pricey
What to Look for in Binoculars for Whale Watching
When choosing binoculars for whale watching, there are a few features to consider.
These can vary if you're watching from the shore or the boat, so check the specifications carefully.
Magnification
When whale watching, the magnification required for the binoculars you choose depends on where you're watching from.
If you're on a boat, a lower magnification of 7x or 8x is best since this gives you clear views without sacrificing stability. Any higher and you'll be dealing with shaky images that will ruin your experience.
Watching whales from the shore requires a higher magnification to bring those images closer, though you will need a steady hand or a tripod to keep the view steady.
Objective Lens Diameter
Objective lenses vary in size, with the larger diameter options letting in more light for bright, clearer images.
The downside to a larger lens is that it also adds weight to the binoculars, so the bigger the lens, the heavier the binoculars will be.
Though this will be fine on the shore when you have the option of using a tripod, it won't work well on a boat since you'll have to hold the binoculars the entire time you're watching the whales.
Your arms and wrists may get tired and sore, limiting how long you can hold the binoculars.
As such, I recommend estimating how long you are likely to hold your binoculars for, and choose an objective lens diameter that will give you a balance of bright, clear images and lightweight binoculars.
Lens Coatings                          
There are a few lens coating options to pick from, all of which are designed to improve the images you're viewing by increasing light transmission and maintaining the detail and color quality nature has to offer.
Coated lenses have a thin anti-reflective coating on one or more lens surfaces.
Fully coated lenses have this coating on both sides of all the lenses, as well as on the long side of the prism for higher-quality images.
Multi-coated lenses use multiple layers of these coatings on at least one lens, while fully multi-coated lenses use multiple coatings on every lens surface.
The more coatings there are, the better the color transmission and the more realistic your views appear.
However, more coatings generally also equals a more expensive pair of binoculars. Choose one that gives you a balance of good quality coatings at the right price point for you.
Eye Relief
The eye relief on binoculars refers to the distance between the eyepiece and your eyes when you're viewing whales or anything else that you have in mind.
The longer the eye relief, the farther you can hold the binoculars away from your face.
This increases comfort, plus a higher eye relief makes these a better option for those who wear glasses.
Field of View
Field of view is measured in feet at 1000 yards and refers to the width of an area you can see when you're looking through the binoculars.
The wider the view, the more whales you can see at once.
The magnification does affect the field of view, with higher magnifications narrowing the width, so keep this in mind when choosing binoculars.
Size
Binoculars can vary in size, mainly due to the size of the lenses.
A more compact pair is easier to carry with you, especially if you're on a boat, so you may want to look for a more compact model when whale-watching on the water.
From the shore, you may be able to handle a larger pair unless you're hiking to your destination and have limited space in a pack.
Weight
Weight is another feature to consider, especially when whale watching from a boat since you'll have to hold the binoculars the entire time you're looking for those whales.
A heavier pair will be hard to hold for long periods, so you may miss a whale or two while resting your arms between views.
From the shore, this is less of an issue since you can use a tripod to do the heavy lifting for you.
Waterproof
Waterproofing is a must on a pair of binoculars that you're using near water, plus they allow you to continue viewing if the weather turns damp.
The seals also keep dust or other debris from getting inside the binoculars.
Most binoculars these days are waterproof as standard, but always double check before making your purchase.
Fogproof
Warm or cold temperatures can cause internal fogging in a pair of binoculars, which ruins your views.
That's why many manufacturers fill the binoculars with inert gas, like argon or nitrogen, to keep moisture out of the barrels and prevent condensation.
If you're by the water, the extra moisture in the air will make fogging all the more likely in your pair of binoculars.
Make sure that you choose a pair that are fog proof to avoid cloudy images.
Best Binoculars for Whale Watching: Conclusion
I hope this article has helped you decide what the best binoculars for whale watching are for you, whether you're viewing whales from the shore or from a boat!
Here are some similar articles you may also enjoy reading:
Best Binoculars for Hiking
Best Binoculars for Long Distance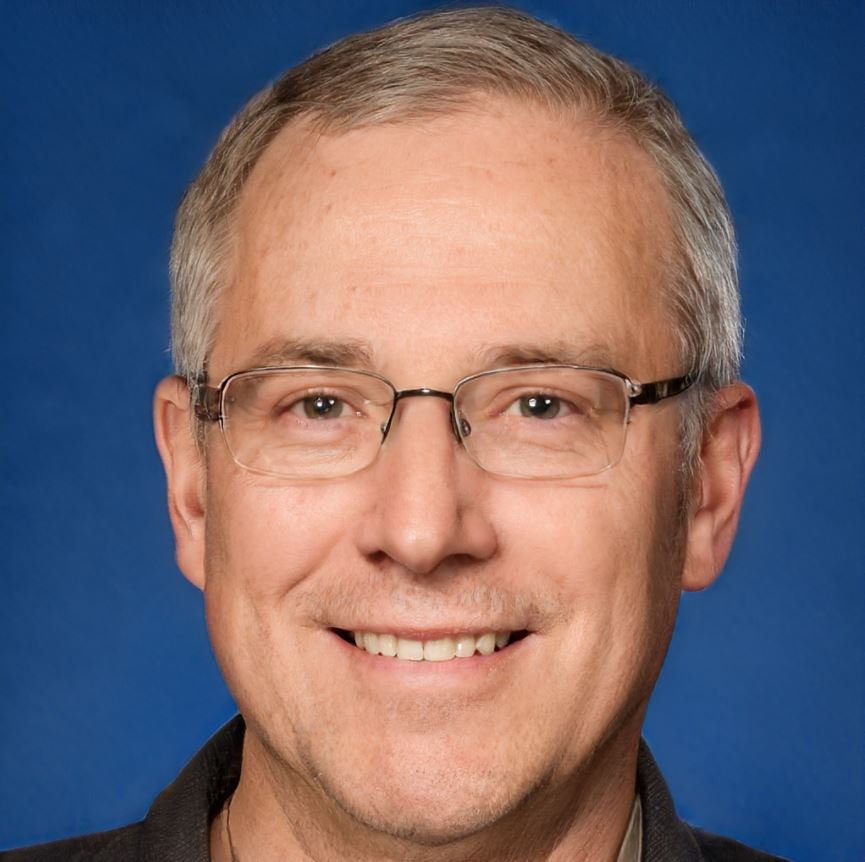 About The Author:
Hi! I'm Will Scott, the author of this post. I'm an outdoor enthusiast with over 10 years experience. I love trying out new gear and reviewing it so that other adventurers can get the most out of their experiences. I hope you've found my website informative, educational and helpful.