Welcome to my article about the best night vision binoculars under $100! Before we get into the detailed reviews and pros and cons of the top 6 binoculars, I'd like to provide a quick summary of the models.
The Best Night Vision Binoculars Under $100 Are:
Nightfox Digital Night Vision Binoculars with Zoom (#1 Best Value For Money)
JZBRAIN Night Vision Infrared Binoculars (Highly Rated)
Rexing B1 Night Vision Binoculars
Hike Crew Digital Night Vision Binoculars
Hollee Night Vision Binoculars
GeowFii Night Vision M2 Binoculars
Out of the binoculars above, the Nightfox are our top pick. They perform superbly for their price and offer excellent value for money.
A close second are the JZBRAIN binoculars. Whilst slightly more expensive than the Nightfox, they also offer a really high quality image and excellent performance for their price.
That been said, each one of the binoculars above offers slightly different features, so if you're still unsure, read our reviews below to find the right pair for your specific requirements.
A Note On Pricing
While researching the best models to include in this article, I came across a number of night vision binoculars that were priced well under $100, but that were simply such poor quality they weren't worth spending money on, or including in this article.
The most important thing to me above all else when compiling articles like this is to ensure that my readers (you!) are getting the best quality information, and that I only recommend products that are durable, offer good value for money, and that I would personally want to spend my money on too.
Considering how many poor quality night vision binoculars there are out there under $100, I made the decision to include some night vision binoculars that are just over $100 in this article – up to $130 at most.
Usually I stick to the budget when compiling articles like this, but in this particular case I think you will agree that spending just that little bit more for a decent pair of binoculars is much better than getting a super cheap pair that falls apart in your hands after a week.
I think you will find that all the binoculars reviewed below are still very affordable, but are good quality and offer great value for money as well.
With that said, let's get into the detailed reviews!
Reviews of the 6 Best Night Vision Binoculars Under $100
Nightfox Digital Night Vision Binoculars with Zoom
Our Top Pick!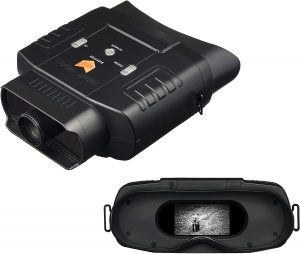 As its name suggests, the Nightfox 100V Night Vision binocular lets you view at night with ease and clarity.
It comes with a revolutionary wide monitoring screen that offers the best and most comfortable view with both eyes. 
And with its top-class magnification capabilities, you can view from as far as 100 meters at night.
Thanks to its 3x fixed magnification and 2x digital zoom button, you get a total of up to 6x magnification.
It has a compact and lightweight build that's the most ideal for long hours of viewing adventures.
The Nightfox binoculars are the most affordable and well priced pair on the market today. They offer excellent value for money, and are my top pick for this article.
PROS
Offers seven levels of infrared optics for clear viewing pleasure
Simple and straightforward three-button operation
High quality with low price
CONS
A few reports of the batteries draining quickly
JZBRAIN Night Vision Infrared Binoculars
Highly Rated
A night vision binocular and infrared goggles in one, JZBRAIN is ideal for night hunting, animal spotting and surveillance, or just looking around your surrounding area.
Not only is it suitable for monitoring farm animals or doing a backyard check in the middle of the night, but it also records them. 
This binocular comes with a 2.31″ HD TFT viewing screen that lets you see clearly even when wearing eyeglasses.
It has LED infrared lights to illuminate your adventures and with its fully multi-coated lens, lets you record beautiful videos and transfer them easily to your computer for later viewing.
These binoculars are a close second for my favorite pair in this article. They're priced slightly over $100 but offer great features and performance that makes the price highly worthwhile.
PROS
Equipped with a powerful 850 NM infrared illuminator
Allows you to see in total darkness with ranges up to 984 feet or 300 meters
Able to take clear videos
Highly rated, great performance
CONS
Manual not particularly user friendly
Rexing B1 Night Vision Binoculars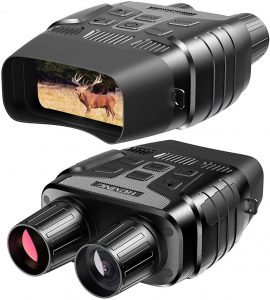 If you're into night hunting, the Rexing B1 night vision goggles are an excellent option.
It lets you observe far away from danger with its 10x optical zoom and up to 4x digital zoom magnification.
It has amazing features which include seven unique 3W IR modes to let you adjust visibility in a variety of light levels.
The Rexing B1 features IP56 water resistance that gives it the capability of functioning in any weather condition.
Its mode button allows for easy switching from photo to video functions with 1MP (1280×960) resolution for photo mode and 960 pixels (1280×960) at 30 frames per second video.
PROS
Has a CMOS image sensor that gives a clear picture up to 300 meters or 984 feet
Capable of taking both images and videos
Equipped with a 2.31-inch internal LCD screen for better viewing
CONS
Designed to be a bit on the heavy side
Hike Crew Digital Night Vision Binoculars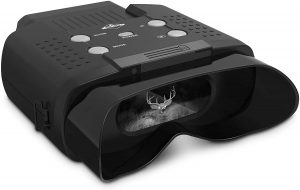 Capture stunning images and videos with Hike Crew night vision binoculars.
This model boasts high fidelity imaging that brings far objects near without straining your eyes.
With it, you can view long distances of up to 1400 ft or an amazing width of four football fields.
It comes equipped with a powerful infrared beam for clear night vision.
It comes with roomy eye cups, a wide luminescent LCD screen, and adjustable image clarity all to make viewing your adventures a total pleasure.
Instant onboard playback allows you to quickly see your recording right after it happened.
It is tripod mountable making the binoculars sturdily standing that lets you enjoy your viewing for hours on end.
PROS
Night time viewing distance of up to 350 ft
Capable of 7x optical zoom and 2x digital magnification
Has seven levels of IR brightness
CONS
Has lens that isn't fog proof
Hollee Night Vision Binoculars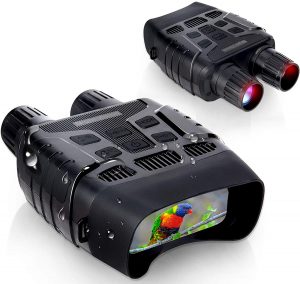 Hunting at night has never been easier with Hollee Night Vision binoculars.
It comes with IR illumination that allows you to see 100% in the dark with ranges of up to 984 feet or 300 meters away.
Plus, it has seven gears of infrared adjustment that is suitable for a variety of dark conditions.
Its 10x magnification and 4x digital zoom are supported by an f/1.2 25mm objective lens to ensure you of clear viewing day or night.
Operating these night vision binoculars is easy and straightforward. A quick press on the Mode button switches you from Photo to Video mode.
The binoculars give you battery life that lets you take videos continuously for six hours straight.
PROS
Equipped with 3W infrared LED and 850-nanometer illuminator
Has a 2.31′-inch LCD wide view screen
IP56 water resistance
CONS
Cannot be hooked to a tactical helmet
GeowFii Night Vision M2 Binoculars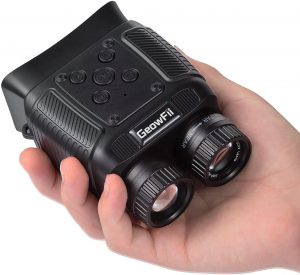 A mini digital night vision goggles, GeowFii lets you view from afar in 100% darkness.
It can easily fit in your hand for easy carrying and longer-lasting viewing.
Weighing only 0.5 pounds, it is lightweight and allows for one-hand operation so walking around with it is a breeze.
Its water-resistant build allows for use in multiple weather conditions.
The GeowFii is equipped with an infrared enhanced 1.3MP FHD CMOS sensor, 850 nanometre IR illuminator, and seven gears of adjustment for clearer viewing.
The 2000mAh batteries give you up to 10 hours of working time to enjoy more of your adventures.
Its 24-millimeter calibre lens lets you enjoy 8x digital zoom and 10x magnification. 
PROS
Has a 2.4-inch IPS TFT monitoring screen
Comes with rechargeable batteries
Equipped with 25mm multi-coated objective lens
CONS
Water-resistant only, not waterproof
Best Night Vision Binoculars Under $100: Conclusion
I hope you've enjoyed reading my article about the best night vision binoculars under $100 and have found it helpful in selecting the right pair for you!
Here are some related articles you may also enjoy:
Vortex Viper vs Razor Binoculars
Best Budget Binoculars for Birding
Best Low Light Binoculars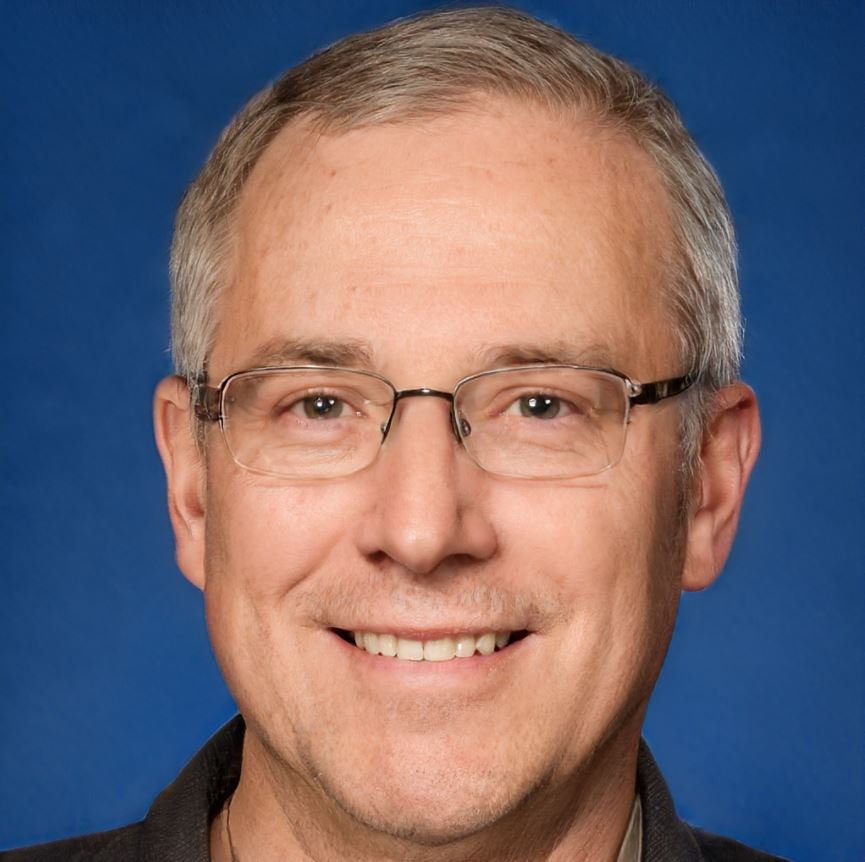 About The Author:
Hi! I'm Will Scott, the author of this post. I'm an outdoor enthusiast with over 10 years experience. I love trying out new gear and reviewing it so that other adventurers can get the most out of their experiences. I hope you've found my website informative, educational and helpful.