Welcome to my article about the best spotting scope under $1000! I'll go through a buying guide at the end of the article, and explain the most important things to look for when selecting a spotting scope in this price range.
But first, let's get right into the reviews, features, pros and cons of the 7 best spotting scopes under $1000!
The Best Spotting Scopes Under $1000 Are:
Leupold SX-4 Guide HD Spotting Scope
Vortex Optics Viper HD Spotting Scope
Vortex Optics Razor HD Spotting Scope (Great Value)
Athlon Optics Ares G2 UHD Spotting Scope (Most Affordable & Our Top Pick)
Pentax PF-80ED-A Angled Spotting Scope (Most High End)
Athlon Optics UHD Spotting Scope
Snypex T-80 Ed Apo Knight Spotting Scope
Out of the spotting scopes featured in this article, my top pick has to be the Athlon Optics Ares. It's not only the most affordable, but it offers better value and higher performance than any other spotting scope for it's price.
Another high quality spotting scope and a very close second is the Vortex Optics Razor. Vortex Optics are a well known, highly trusted brand in the optics world and this spotting scope lives up to their reputation of quality, durable products at reasonable prices.
Finally, the most high tech and luxurious spotting scope (while still being under $1000) is the Pentax spotting scope. This spotting scope is right on the edge of the budget, however it offers incredibly gorgeous, crisp images, even at max magnification. If you have the money to invest, this is the spotting scope I'd recommend.
Reviews Of The Best Spotting Scopes Under $1000
Leupold SX-4 Guide HD Spotting Scope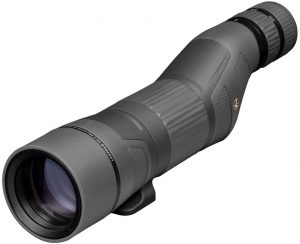 Though it's a bit heavy at almost 4 pounds, the Leupold SX-4 spotting scope has great features that make it a worthwhile investment.
It is waterproof, fog-proof, and built using aluminum and polycarbonate materials with rubber armor coating and scratch-resistant lenses which makes it incredibly durable.
It has a Twilight Light Max HD Management System that reduces glare and offers high quality visuals in low-light conditions.
It also has an ultra-smooth focus for sharper images and an oversized eyepiece for less eyestrain and more comfort, particularly during long periods of use.
PROS
Oversized, comfortable eyepiece
Amazing low-light performance
Waterproof
Vortex Optics Viper HD Spotting Scope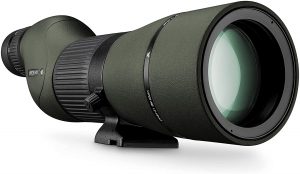 The Vortex Optics Viper HD is a 15-45×65 straight spotting scope that is O-ring sealed and argon purged for both fog and waterproofing.
The rubber armor increases durability and creates a sturdy grip while the ArborTech coatings prevent scratches, oil, and dirt from collecting on the lenses.
This model includes an HD optical system that uses only the best components combined with XR anti-reflective coatings for bright, clear images.
It also features a smooth helical focus, a multi-position eyecup, and a built-in sunshade.
PROS
HD optical system
Built-in sunshade
Multi-position eyecup
CONS
Some chromatic aberrations at highest magnification
Vortex Optics Razor HD Spotting Scope
Excellent Value for Money!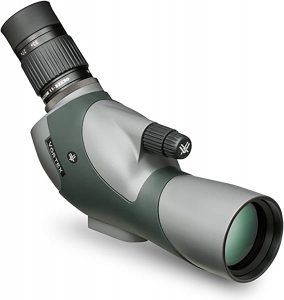 The Razor HD spotting scope is an angled scope that is extremely lightweight and portable, with O-ring seals and argon purging for waterproof and fog-proof performance.
The rubber armor is durable, as is the Amortex coatings on the lenses.
This model features a dual focus wheel for quick micro and macro adjustments, Triplet Apochromatic lenses with high-density ED dispersion glass for crisp colors and amazing resolution, XR Plus anti-reflective coatings for brighter images in low light conditions, a zoom eyepiece, and adjustable eyecups.
It's another quality product from Vortex Optics and an excellent spotting scope for the price.
PROS
Lightweight
Dual focus knobs
Durable materials
Great value for money
Athlon Optics Ares G2 UHD Spotting Scope
Best Value for Money!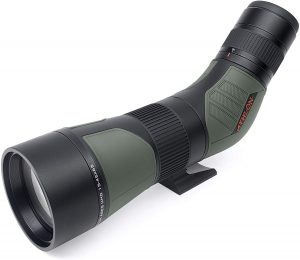 Despite its low price, the Ares G2 Spotting Scope is a high quality model that features an Apochromatic Lens System for sharp, clear images with no chromatic fringe. These lenses have an ESP Dielectric coating and are fully multi-coated for amazing brightness and crisp colors.
This angled scope is durable, with rubber armor and argon purging for both water and fog-proofing.
A rotating ring allows you to turn the scope for the best and most comfortable angle.
There is also an interchangeable eyepiece which allows you to swap the magnification if desired, though the additional 22x eyepiece is sold separately.
The performance and quality of this spotting scope is amazing when compared to it's price. If you're looking for the best mid-tier spotting scope, I'd say the Athlon Optics Ares G2 is it.
PROS
Interchangeable eyepiece
No chromatic fringe
Fully multi-coated lenses
Excellent value for money
CONS
Needs refocusing when adjusting zoom
Pentax PF-80ED-A Angled Spotting Scope
Best Quality and Performance!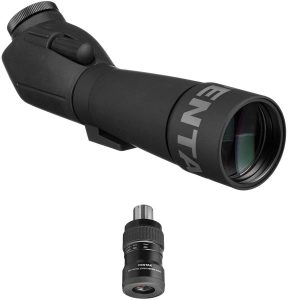 Though the magnesium-alloy material used for the body of the Pentax angled spotting scope is lightweight, the huge 80mm objective lens of the makes it a bit heavy at almost 4 pounds.
However, this lens, along with the other internal components of this spotting scope, create the crispest and brightest images out of all the spotting scopes listed in this article, even at max magnification.
This spotting scope also features an O-ring assembly and is nitrogen-filled for water and fog protection.
It also has a built-in lens shade to reduce glare and prevent water drops during wet weather.
A click-stop tripod socket lets you angle the scope as needed.
Even though the Pentax is the most expensive at almost $1000, if you're looking for a high quality spotting scope that provides crystal clear images, I'd say this one is well worth the investment.
PROS
Extra-low dispersion glass
Click-stop rotation tripod socket
Built-in lens shade
Excellent image quality and clarity
Athlon Optics Cronus UHD Spotting Scope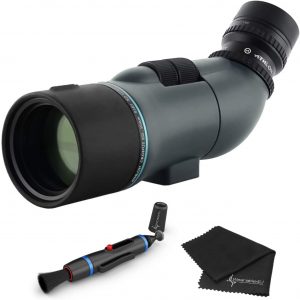 The Cronus model from Athlon Optics is a sturdy, yet lightweight spotting scope.
The body is magnesium, with an Apochromatic lens system for better contrast, sharper images, and brighter colors.
The extra-low dispersion glass reduces chromatic fringe for even crisper edges and clearer views.
Other handy features include the advanced fully multi-coated lenses and ESP Dielectric Coating for increased brightness and amazing color reproductions.
Included with the scope are a Wearable4U Lens Cleaning Pen and a Lens Cleaning Cloth to keep your lenses crystal clear.
PROS
Magnesium chassis
Cleaning accessories included
Apochromatic system
Snypex T-80 ED-Apo Knight Spotting Scope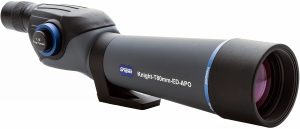 This straight spotting scope from Snypex features a durable waterproof body that is nitrogen-filled for fog-proofing.
It includes an 80mm objective lens and a 20 x 60 zoom eyepiece, with a dual focusing system that is easy to use.
The twist-up eyecups make this a comfortable model to use for everyone.
This model also features a Porro prism optical design, anti-reflective fully multi-coated lenses, an Apochromatic lens configuration, extra-low dispersion glass, and a built-in retractable lens shade.
PROS
Nitrogen filled
Dual focusing system
Rotating tripod collar
CONS
Tricky to screw on unattached lens caps
What To Look For When Choosing A Spotting Scope Under $1000
Straight or Angled
Spotting scopes come in both straight and angled views. Which one to choose depends on what you're using it for.
The straight scopes allow you to look straight ahead to see what's right in front of you, even if you're looking down from an elevated spot or up when laying on the ground. This is the best option for hunters or those who don't need to look up.
An angled scope has a tilted eyepiece, so you look down into it. If you are looking straight into it, the angle will allow you to see what's above you. This works well for bird watching or star gazing.
Lens Size
The lens size is one of the most important features of a spotting scope.
Most high-end models use an objective lens with a diameter of 60 to 100mm, which ensures the best light-gathering ability for clearer, brighter images.
Of course, with a larger lens comes more weight, so these aren't lightweight scopes.
This could affect how long you can use it, though you can purchase a tripod stand for those longer viewing sessions.
Lens Coating
The lens coating is also something to look for in the best spotting scope under $1000.
Most models include fluoride-coated glass, though this can be either high-density or extra-low dispersion glass. These are best for low-light conditions or when using high power.
They may also feature single coat, fully coated, multi-coated, or fully multi-coated lenses.
Generally, fully multi coated lenses are the best as the coatings help with light transmission and reduce reflections, producing a clearer, brighter image.
Magnification
The magnification on these types of spotting scopes is usually between 15x and 60x. The magnification you will need depends on what you're using the spotting scope for – for long distance viewing, go for a higher magnification and vice versa.
The magnification can generally be altered using a zoom or by changing the eyepiece that you're using, depending on the type of scope you're using.
When using your scope, it's best to start at the lowest magnification and work your way up to higher ones as needed.
Focus
There are two types of focusing systems for spotting scopes.
The first is a focusing collar, which includes a rubberized barrel that you twist to adjust the focus for sharper images.
There is also the option of a focusing knob, which will be located on top of the scope near the eyepiece.
Some models even include dual knobs for fine-tuning. These are a bit slower to use, though they are the best option overall as they provide a more precise image than the barrel option.
Weight/Portability
The weight of the spotting scope you choose will determine how long you can hold it without the use of a tripod.
Features like the lens diameter can alter the weight since larger lenses make the scope heavier.
This also affects the size of the scope, with larger models being harder to pack with your other gear.
Consider how portable your scope needs to be and how easy it is to carry before choosing one.
If you know you won't need to carry your spotting scope too far, we recommend going for clearer images over weight/portability. However, if you take your spotting scope for long hikes, it would be worth opting for one that has a balance between image clarity and weight.
Weather protection/Durability
Weather protection is another important feature to look for, especially if you plan to use your scope during damp weather or on fishing trips when the scope could get wet.
The more waterproofing there is, the safer the scope will be.
Other durability features include fog-proofing for clear viewing and shock resistance for bumps and falls the scope could sustain.
However, pretty much all spotting scopes between $200 and $1000 will be highly resistant to wear and tear, so you won't have to worry too much about this when considering the spotting scopes listed above.
Tripod
Most spotting scopes are sold on their own, though a few of them do include a tripod.
These tripods are not guaranteed to be high-quality though, so it is best to check certain details, like leg adjustments and flip locks for uneven ground.
If you know you will be using your tripod for long periods of time, I recommend investing in a good quality tripod to remove strain on your arm and neck.
Are Spotting Scopes Better Than Binoculars?
Scopes aren't necessarily better than binoculars since there are benefits to both of these products, depending on what you're using them for.
When viewing items short distances away, like when hunting or birdwatching, the lower power that binoculars offer is a better choice.
For longer distances, it's best to use a good spotting scope. They have an overall higher power that makes them the best option for longer ranges when viewing scenery and offers greater detail when gazing at wildlife.
Best Spotting Scope Under $1000 – Conclusion
I hope this article has helped you not only learn more about the important aspects of spotting scopes, but also find the right one for you within your price range.
Here are some more articles you may also enjoy:
Best Spotting Scope for 1000 Yards
Spotting Scope vs Telescope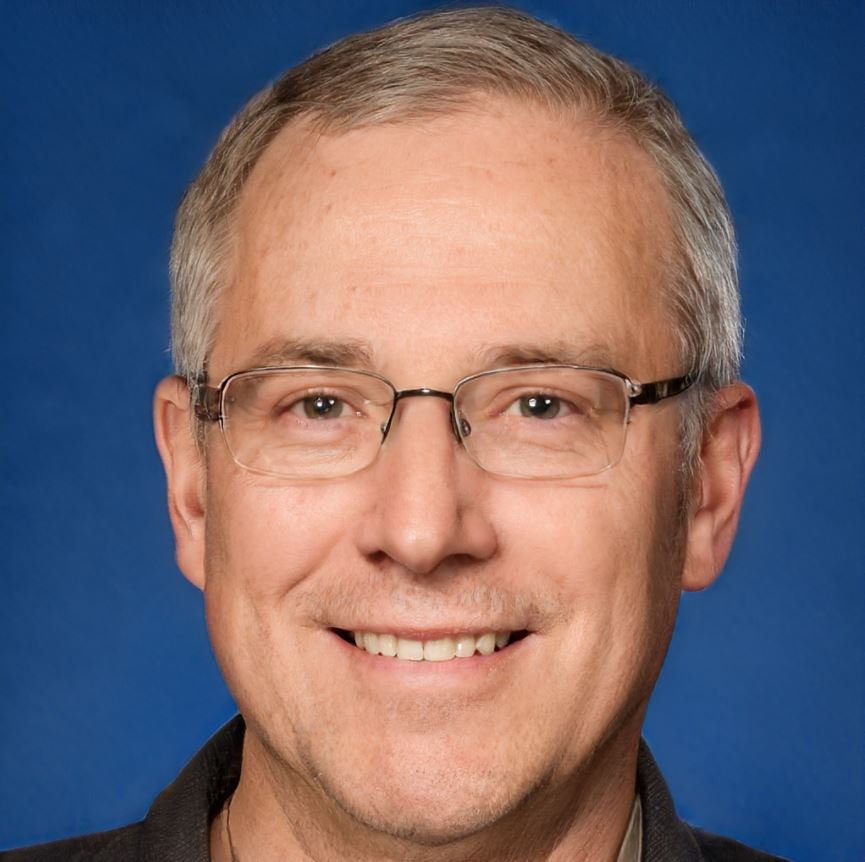 About The Author:
Hi! I'm Will Scott, the author of this post. I'm an outdoor enthusiast with over 10 years experience. I love trying out new gear and reviewing it so that other adventurers can get the most out of their experiences. I hope you've found my website informative, educational and helpful.