Welcome to my review of the best budget binoculars for birding! All the binoculars featured in this article are under $250, but their affordable price doesn't mean they are low in quality or performance – in fact, all these binoculars are excellent value for money and perform exceptionally well considering their price!
I will go through detailed reviews and pros and cons of each binocular, and then at the end of this article list a few key aspects of binoculars to keep in mind when choosing one specifically for birding.
But first, let's start with a quick rundown of the top models in this article for those who want to find the best budget binoculars for birding fast!
The Best Budget Binoculars For Birding Are:
Celestron Nature DX 8×42 Binoculars
Nikon 8246 Aculon A211 10×42 Binoculars
Nikon 8252 Aculon A211 10-22×50 Binoculars
Vovo 10×50 Binoculars (Most Affordable)
Adasion 12×45 HD Binoculars (Best Value)
ScoopX 10×42 Ultra HD Binoculars (Best Performance)
Out of the list above, the Vovo 10×50 binoculars are the most affordable, coming in at a little under $50. I almost can't believe that Vovo can still make a profit on these binoculars, considering how well they perform and how many features they have.
If you're a beginner or occasional birder and want a pair of decent binoculars that are easy to use without investing too much, then Vovo are the ones for you.
The Adasion 12×45 HD Binoculars are another pair of very affordable birding binoculars, priced just above the Vovo. These present a surprisingly bright image for the price, are lightweight and easy to use, and come with a phone adaptor that makes it easy to take photos of birds with your phone.
This makes them a great option for beginners or occasional bird watchers who also want to take photos to remember the birds they saw!
Overall, the best bird watching binoculars on this list have to be the ScoopX Ultra HDs. Yes, they are the most expensive on the list, but are still relatively affordable at a bit more than $200.
They provide the clearest and sharpest image of any budget binocular, and are exceptionally good for bird watching because they also come with a harness.
If you're looking for a budget option but still want good quality optics and durability, these are the ones I'd recommend.
Budget Binoculars for Bird Watching – Reviews
Celestron Nature DX 8×42 Binoculars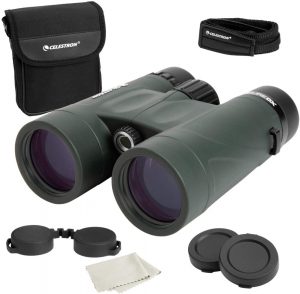 The Celestron Nature DX binoculars are a great pair for birdwatching, thanks to features like the 8x magnification power, 6.5-foot close focus, fully multi-coated lenses, and phase-coated BaK-4 prisms.
Together, these give you bright, clear images, though they offer limited visibility in low light conditions.
Other great features include the durable rubber-armored polycarbonate body, twist-up eyecups to accommodate eyeglasses, nitrogen purging for fog prevention, and waterproofing for damp conditions.
There are a few handy accessories that come with these binoculars, including objective lens caps, an eyepiece rain guard, a lens cloth, a comfortable neck strap, and even a carrying case to keep all your gear organized and protected.
All these extras make these binoculars a great option for beginners who don't have any gear yet.
The lens caps aren't attached to the binoculars, though, so you do need to be extra careful to avoid losing them.
PROS
Multi-coated lenses
Waterproof
Multiple accessories
CONS
Covers aren't connected
Not good for low-light conditions
Nikon 8246 Aculon A211 10×42 Binoculars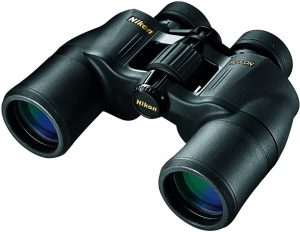 The Nikon 8246 Aculon A211 binoculars feature 10x magnification power and multi-coated lenses with 42mm diameters.
The lenses are made with Nikon's unique Eco-Glass that's been designed to be free of lead and arsenic, making them exceptionally safe even if the glass accidentally breaks.
They also include Bak-4 Porro prisms that offer amazing images even in dim lighting, so you can go bird watching from dawn until dusk.
There are turn-and-slide rubber eyecups for easy eye positioning and a smooth central focus knob to easily focus on the bird you're watching.
In addition, these binoculars feature a rubber-armored coating around their exterior that makes them durable and easy to grip, and a padded carrying case to keep them safe between uses.
Unfortunately these binoculars don't include fog protection or waterproofing but their low price, light weight and high image quality even in dim lighting still make them a worthwhile for bird watching. Maybe just schedule your outings for when it's not raining!
PROS
Easy to focus
Rubber-armored coating
Lightweight
Great in low light conditions
CONS
No fog protection
Not water-resistant
Nikon 8252 Aculon A211 10-22×50 Zoom Binoculars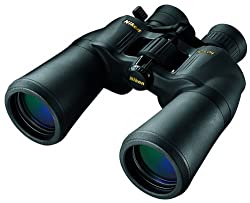 Though they are a bit bulkier than some other models, the Nikon 8252 10-22×50 binoculars are still a great option for birdwatching.
They have a ton of great features, like multi-coated Eco-Glass lenses that provide bright images even in low light conditions, and the durable, waterproof, rubber-armored coating with a non-slip grip that protects the binoculars in all weather conditions.
There is a smooth central focus knob for quick alterations in viewing, plus an eyepiece zoom knob to adjust the magnification from 10x to 22x without losing your focus on whatever you're looking at.
The adjustable magnification is my favorite feature of these binoculars particularly for bird watching, as it means you can easily see the birds no matter how near or far they might be.
Other handy features include the turn-and slide multi-click rubber eyecups for eye relief adjustment, a tripod adapter, and a handy carry case. Lens caps are also included, though they don't fit the binoculars well, and could fall off at times.
PROS
Ergonomic design
Non-slip grip
Eyepiece zoom
Adjustable magnification
CONS
Poor quality lens caps
A bit bulky
Vovo 10×50 Binoculars
Most Affordable!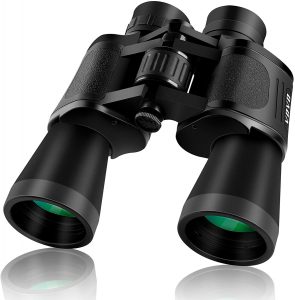 The Vovo 10×50 Binoculars are an extremely budget-friendly pair with some professional-quality features.
This includes the multi-layer coated optics and the BaK-4 prism system, which work together to provide 99.8% light transmission for bright images and crisp colors.
This also makes the Vovo model a great option for low-light conditions.
The body is coated in rubber armor that includes an anti-slip grip, impact resistance, and water resistance, so it can withstand most weather conditions and some rough handling if needed.
They have 22mm eyepieces and 50mm objective lenses that offer a wide FOV at about 1000 yards without shaky images, even when the birds aren't staying put.
These binoculars also feature a wide focus knob that turns smoothly for easy focusing, even for beginners and kids.
The tripod interface offers hands-free use. A carry case, neck strap, lens cap, wipe cloth, and manual are also included.
Considering that these binoculars are the most affordable of this list, they are incredibly good value for money and an excellent choice for beginners or occasional birders who want a well-performing pair of binoculars without the huge investment.
PROS
Durable construction
Wide FOV
Professional optics
Incredibly affordable
Comes with useful extras
CONS
Somewhat large
Not fully waterproof
Adasion 12×42 HD Binoculars
Best Value!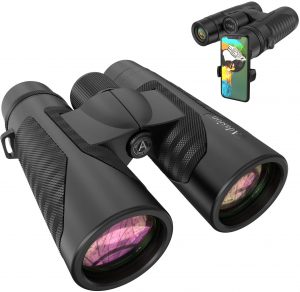 The Adasion 12×42 HD Binoculars are a budget-friendly option that don't sacrifice features to keep the price low.
They include 18mm eyepieces, fully multi-coated lenses, and 16.5mm Big BaK-4 Prisms, all of which work to give you larger images, clearer details, and brighter views than many other models on the market.
Other features include waterproofing, fog-proofing, and a durable casing that prevents damage if you're binoculars get jostled a bit.
They are also lightweight at about 1.25 pounds, making them great for long periods of bird watching as your arm isn't likely to get tired too quickly.
In addition, they are tripod compatible, though an adapter must be purchased separately.
These binoculars also have a feature not found on most other models, which is the phone adapter, which lets you attach your phone to the eyepiece to take photographs through the binoculars.
This makes them a great option for photographers or those who like to take photos of birds as well as watching them.
The only downside is that the adapter doesn't work with phones larger than 3.74 inches or those with dual cameras.
PROS
Phone adapter allows you to take photos through the binoculars
Lightweight
Waterproof
Incredibly good value for the price
CONS
Adapter doesn't work with all phones
No tripod adapter included
ScoopX 10×42 Ultra HD Binoculars
Best Quality and Performance!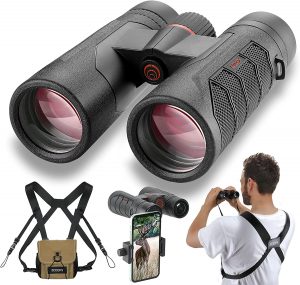 The features of the ScoopX 10×42 Ultra HD Binoculars are as good as the ones you'd find on high-end models but without the high price tag.
These include fully multi-coated lenses and 20mm Bak-4 prism that provide high light transmission for brighter images.
They also include Flat FOV technology that combines with 24mm eyepieces for a huge field of view with no distortion and amazing clarity.
The magnesium chassis is extra-strong, yet lightweight, with waterproofing for those damp days and nitrogen-purging to eliminate fogging.
They also come with an X-shaped harness for hands-free carrying, plus they can be used with the binocular case for extra protection.
A smartphone adapter allows you to combine the phone and binoculars for some quick photography.
Lens caps, a neck strap, a wipe cloth, and an instruction manual are also included.
Even though these binoculars are the most expensive in this article at a little over $200, they are exceptionally high performing, high quality, and overall a joy to use, particularly when the price is taken into account.
If you're happy to invest just that little bit more in your birding binoculars, then the ScoopX Ultra HD's are the ones I'd recommend.
PROS
Fantastic accessories
Distortion-free
Nitrogen purged
Highly durable
Excellent performance and value for the price
How To Choose Budget Binoculars for Birding
If the terminology associated with binoculars is confusing you, you're not alone! There is a lot to know about binoculars, and it can be overwhelming at times.
As such, we've put together this buying guide specifically for birding binoculars so you can know exactly what to look for when choosing a pair of binoculars for your next bird watching trip.
Magnification
Most binoculars start with numbers such as "8×32." The first number always refers to the magnification level of the pair – in this example, it would be 8x magnification.
The magnification of your bird-watching binoculars determines how close the bird appears when you're looking through them.
Though a higher magnification means a closer image, and hence the ability to see birds from further away, these lenses also pick up vibrations or tremors more easily, leading to shaky viewing.
Bird watching binoculars are usually between 7x and 20x magnification, with the optimal range being 8x to 10x.
Field of View
Field of view is measured in ranges of 6 to 7.5 degrees or 300 to 375 feet at 1000 yards, depending on the binoculars, though both measurements mean the same thing.
The higher the field of view, the larger the area you can see in front of you when you look through the lenses.
Birds rarely sit still and are often flying from branch to branch. Because of this, a wider field of view is best for birding binoculars because it increases your ability to keep the bird in view.
Objective Lens Diameter
When purchasing a pair of binoculars, you'll notice numbers like 8×32. As we discussed above, the 8 refers to the magnification, while the 32 refers to the objective lens diameter, which is the size of the lens located at the front of your binoculars.
The bigger the objective lens is, the more light it let's into the binocular, resulting in a clearer view and image. Larger lenses are also heavier, though, which may become an issue when bird-watching for long periods.
Close Focus
Close focus refers to the minimal distance a bird needs to be from the binoculars to guarantee a clear view. If a bird is 10 feet away and the binoculars have a close focus of 20 feet, you won't see the bird as clearly as if it were further away.
Though watching birds from a distance won't be an issue, trying to see one in your backyard may be frustrating if you can't see it clearly. Check the close focus spec of your binoculars before purchasing to ensure it's the right distance for you.
Brightness
The brightness is determined by the objective lens diameter, as well as the prisms, coatings, and lens quality of the binoculars.
Larger objective lenses let in more light, creating brighter images. The coatings on the lens and prisms also enhance the brightness, with more coatings offering better viewing.
If you're thinking of going birding at dawn or dusk, it will be worth investing a bit more to get binoculars that offer a bright image even in low light conditions.
Stability
There are a few factors that lend stability to binoculars, including their ability to handle the elements, how the viewing is affected by movement, and whether it can be used with accessories, like tripods or special lenses.
The more stable they are in these areas, the better the image will be. In addition, as mentioned above, a lower magnification will provide a more stable image.
Weight
Heavy binoculars are fine for short term use, but those who like to spend several hours bird watching will likely want a lighter pair to reduce strain on the wrists and arm.
You may have to sacrifice some other perks, though, like smaller lens diameters and reduced brightness, so in this case it's a balance between what you will require more – image quality or binocular weight.
Weatherproof/Resistance
Protection against the elements is important to reduce water damage and internal fogging. Look for binoculars that include nitrogen or argon purging with O-ring seals, as well as a waterproof or at least water resistant coating, for the best pair possible on those damp days.
Also look for binoculars that have some kind of armor or casing that protect them from bumps, wear and tear. This is important particularly if your binoculars will spend a lot of time being transported in a bag/suitcase.
Best Budget Binoculars for Birding – Conclusion
I hope this article has helped you find the best bird watching binoculars for you at an affordable price. As you can see, there are plenty of high quality, high performing binoculars on the market – it's just a matter of selecting the one that has all the features you require!
Here are some related articles you may also enjoy:
Best Low Light Binoculars
Best Budget Golf Rangefinder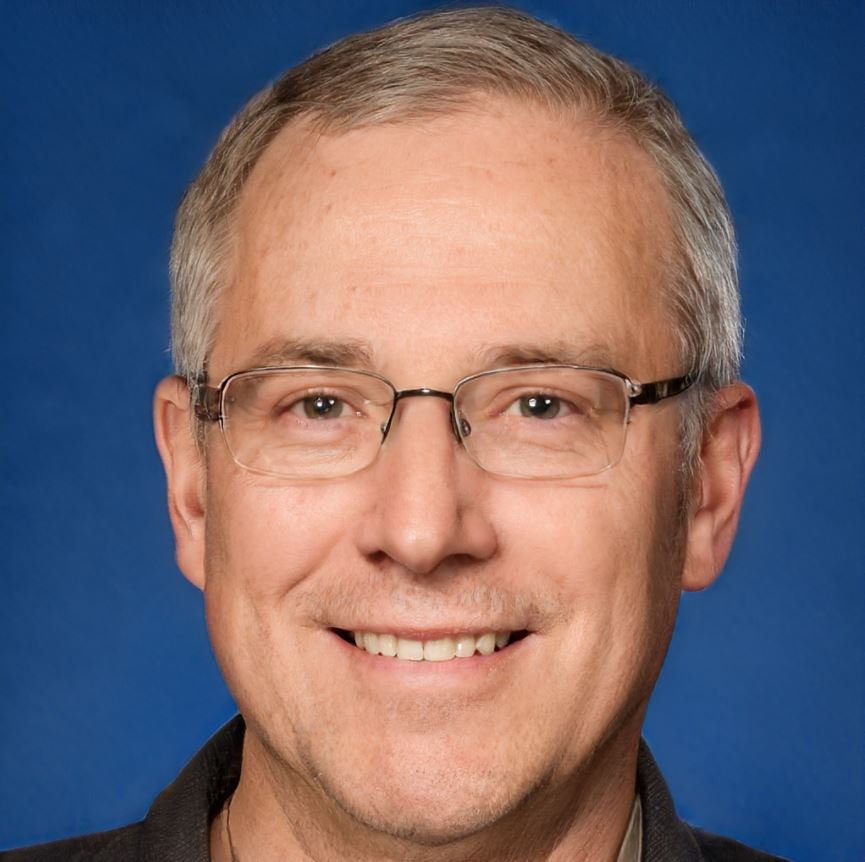 About The Author:
Hi! I'm Will Scott, the author of this post. I'm an outdoor enthusiast with over 10 years experience. I love trying out new gear and reviewing it so that other adventurers can get the most out of their experiences. I hope you've found my website informative, educational and helpful.