Wondering what are the best flowers to attract hummingbirds? Then you've come to the right place! We'll go through the top 23 easy to grow flowers to bring more hummingbirds into your garden below. But first, an introduction as to why you might want to invite hummingbirds in the first place.
Flowers that Attract Hummingbirds – Introduction
Watching hummingbirds sip nectar out of plastic containers is pretty entertaining, but it doesn't compare to the feeling you get when they're sipping it from flowers that you grew.
Hummingbirds are mysterious creatures. I've had hummingbirds frequent my garden for years, and I've always enjoyed watching them, especially through my binoculars. But I still can't figure out which flower is their favorite of all.
Some days they'll all flock to the rhododendrons, and then other days they'll be all over the lupines. So I came up with a theory that they're just like us humans; sometimes we feel like eating sushi, and sometimes we feel like eating a salad.
So here's my list of flowers for hummingbirds that are easy to grow, native, and nectar-rich. And remember, while you might have your heart set on a certain flower, you should try to mix it up for the best results!
Why Did I Pick These Flowers?
I used a criteria for choosing these flowers to make the list much more helpful.
For a flower to make this list, it had to be native, nectar-rich, and easy to grow. I go in-depth below on each of these.
1. Native to North America
In my opinion, flowers that are native to North America are the best to use. Obviously they're a great source of nectar, but other North American pollinators, insects, butterflies, etc. prefer them, which is the main reason you'd choose native.
But differentiating native plants from non-native plants can be troublesome. Some common plants in North America are actually foreign, but they've been naturalized from being here so long.
So I tried to make sure each flower was native, but forgive me if they aren't all perfect.
It is okay to use non-native plants though, such as the Foxglove.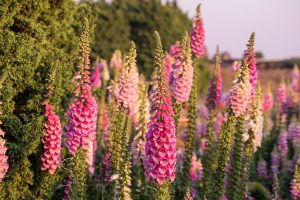 Just make sure you don't allow whatever non-native plant you choose to spread outside of your yard.
2. Full of Nectar
You're gonna want flowers that have lots of nectar, since nectar is the reason hummingbirds come to the flowers in the first place.
Fuel is a must for their quick, jittery movements and their rapid wing flapping!
3. Easy to Grow
I didn't want to list plants in this list that are hard to grow for casual gardeners since I'm one myself and I would never consider a plant that takes more than basic care.
One thing you want to consider is if the plant you choose is fit for your region. A plant that's easy to grow in Georgia might be a lot harder to grow in the Dakotas.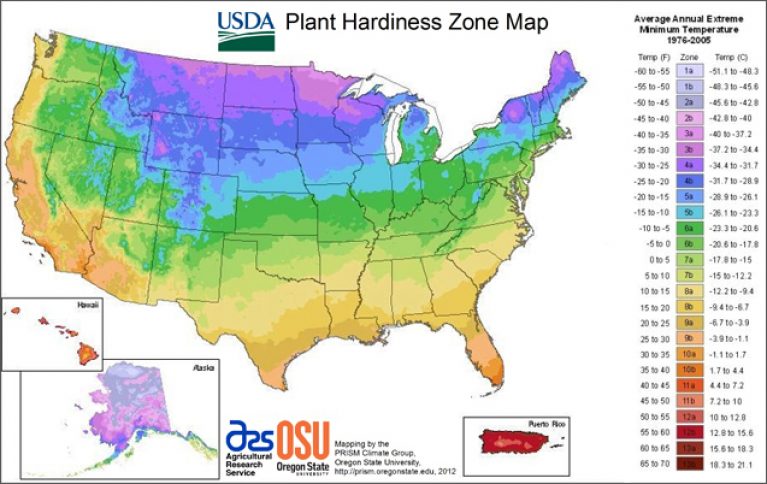 Here's a map that shows the hardiness zones of plants. Click here to go to the USDA website and type in your zip code.
It's essential that the flowers you buy coordinate with the zones.
Other Factors to Consider
I did not use these factors to create this list of flowers for hummingbirds, but depending on your personal needs and wants, you might want to consider some of these:
Color choices within the species so you can diversify the colors in your garden;
Early blooming or long blooming period;
The attractiveness of foliage;
Variation in shape, size, and form to increase design options.
17 Native, Easy to Grow Flowers That Will Attract Hummingbirds
The flowers in this list can be planted nearly anywhere in the U.S.
There are some parts of the U.S. where you can't grow some of the flowers in this list, so make sure you check the USDA map to make sure the flower you want to plant can be grown in your zone.
If you have any questions, you can comment on this article using the comment section below.
1. Columbine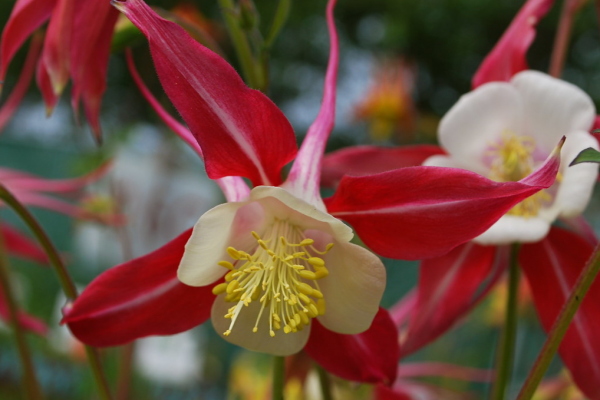 (Aquilegia, Zones 3-9)
You can find columbine in just about any color, including red, which is normally the favorite color of hummingbirds.
You can plant in sun or shade for spring to early-summer flowers.
Why I love it: It looks great and can be paired with other colors to create a beautiful hummingbird magnet.
Size: ~3 feet tall
2. Bee Balm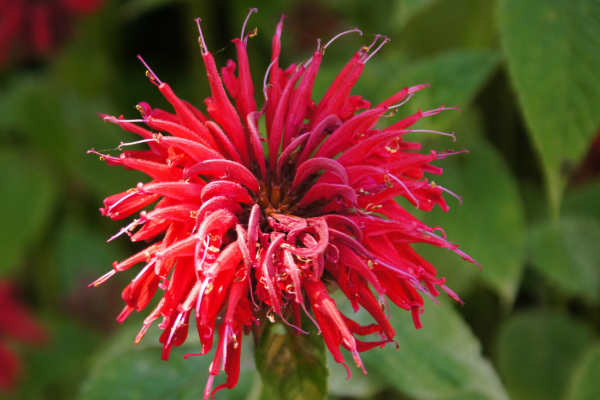 (Monarda didyma, Zones 3-9)
There are bee balm varieties in purple, pink and white, but the most popular shade is still red.
Why I love it: It is very unique looking and butterflies, bees and hummingbirds can't resist it.
Size: 3-4 feet tall and up to 26 inches wide.
3. Cardinal Climber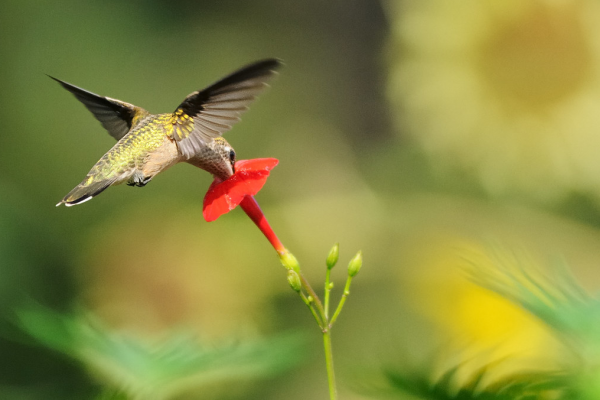 (Lobelia cardinalis, Zones 3-9)
This flower was named after cardinals because its shade of red resembles cardinal red. Standing at four feet tall, this towering flower looks great in any garden.
Why I love it: Growing many of these in one place makes for a very pretty sight, and you'll see plenty of hummingbirds visiting them.
Size: ~4 feet tall and 2 feet wide.
4. Coral Bells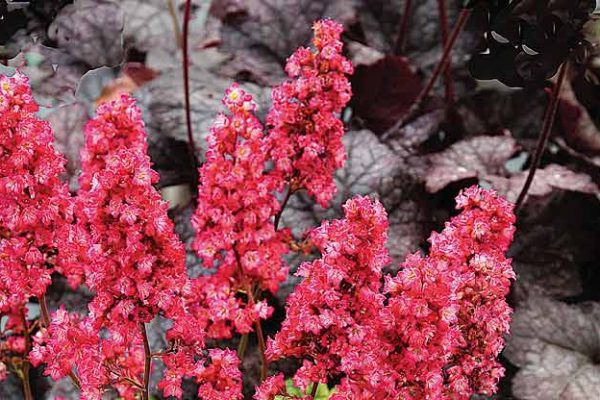 (Heuchera, Zones 3-9)
These flowers are popular for growing in beautiful cone shapes, as you can see in the image above.
Why I love it: These flowers won't do well in heavy shade, but they are easy to grow otherwise and they look great.
Size: ~3 feet tall and 24 inches wide.
5. Zinnia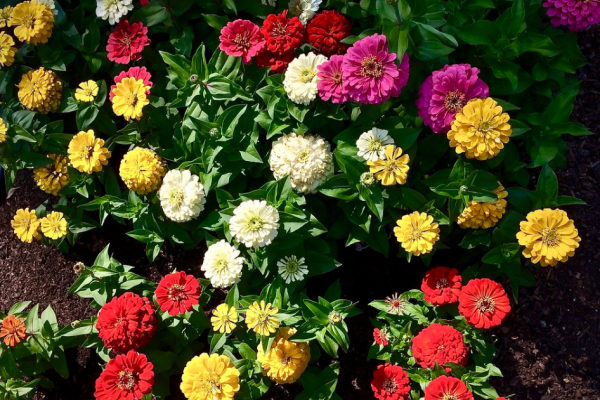 (Zinnia, Zones 3-10)
Zinnia is an annual flower that is native to the area from southern North America to northern South America.
Why I love it: Zinnia has a very dry, southern look to it, which I love.
Size: 1-8 feet tall and 12-18 inches wide.
6. Hibiscus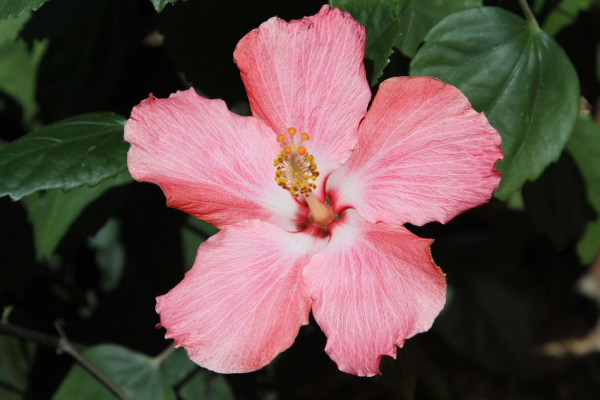 (Hibiscus, Zones 4-10)
Big, brightly colored and pretty, this plant stands out in any garden. Make sure this absolute unit has enough sun and moisture to grow!
Why I love it: This is one of the prettiest flowers you can plant. It has a very tropical look to it.
Size: 3-6 feet tall and 4-12 inches wide.
7. Sage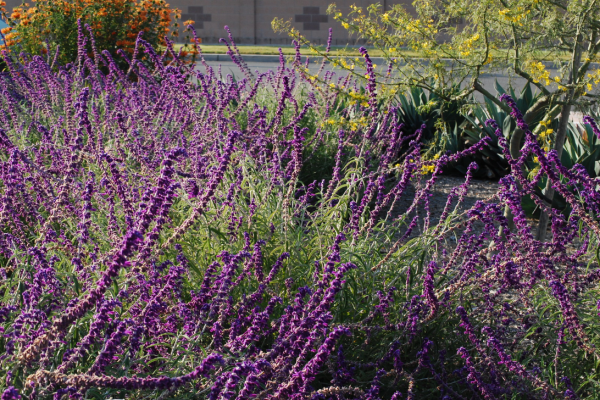 (Salvia, Zones vary)
There are many different variations of sage, so if you're looking to buy sage you'll have to find one that you can grow in your zone.
With that being said, sage is a great plant for hummingbirds and other pollinators because its flowers are long and tubular.
Why I love it: It forms a nice ball of purple in your yard, and doesn't require pruning or deadheading.
Size: ~3-4 feet tall and 3 feet wide.
8. Peony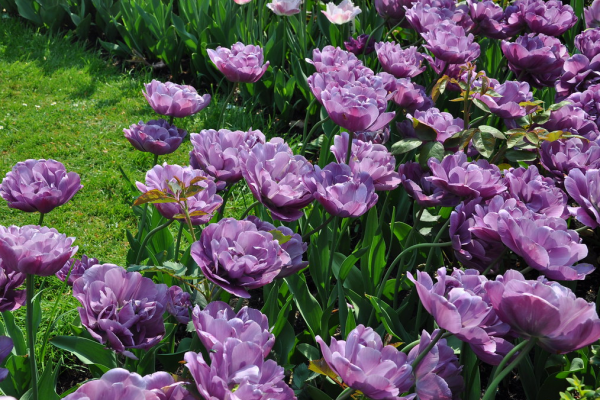 (Paeonia, Zones 3-8)
This plant has giant blooms in spring and early summer that are magnets to butterflies and pollinators. Dig and divide the rhizomes in the fall.
Why I love it: Peonies can really have a big impact, and you don't even have to plant many of them.
Size: 3-4 feet tall 3 feet wide.
9. Beardtongues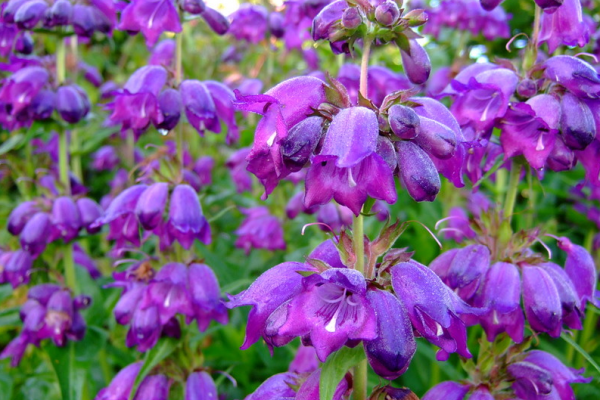 (Penstemon, Zones 3-8)
Beardtongues are drought-proof perennials. Most species of them are loved by hummingbirds.
Why I love it: This classic plant offers plenty of shades to choose from.
Size: 1 to 3½ feet tall.
10. Garden Phlox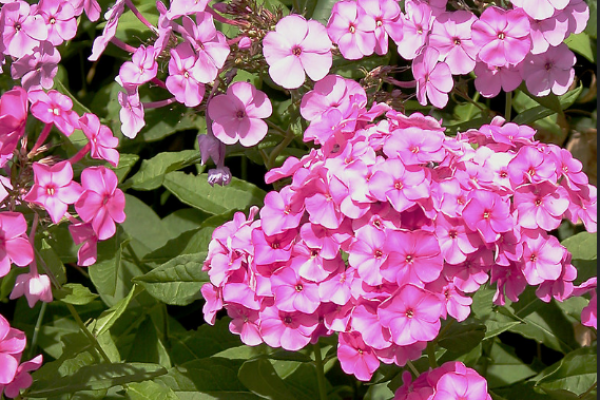 (Phlox paniculata, Zones 4-8)
Garden phlox blooms late in the summer with bursts of lavender, coral, violet, red and white, depending on the cultivar.
Why I love it: The flowers are packed in tight, making their color stand out.
Size: 2-4 feet tall.
That Was the Top Ten Flowers for Hummingbirds! Here Are Thirteen More.
Now that we have a top ten list (in no order) of some of the best flowers for attracting hummingbirds, I'll list seven more, then I'll let you go to decide which ones you want in your garden.
Keep in mind, these are not the only plants you can use. There are many, many more than 17 plants that will attract hummingbirds. The ones in this list are just some of the most common.
While I do hope that you plant one of the flowers I mention in this article, I also hope that this article inspires you to mix it up and find some unique flowers that fit your vision.
Here are the thirteen more flowers:
11. Daylily
12. Lantana
13. Honeysuckle
14. Lupine
16. Petunia violacea
18. Ribes aureum
20. Oriental poppy
22. Delphinium
Flowers that attract hummingbirds – Conclusion
There you have it, a list of 23 flowers for attracting hummingbirds.
As I said above, I hope this article inspires you to grow your dream garden, filled with as many hummingbirds as you'd like.
Remember to check if the flower you want to grow coordinates with your zone.
Also, if you want hummingbirds year-round, plant hummingbird flowers that will be in season year-round!
Thanks for reading! Leave a comment describing your region and which flower you've found to attract the most hummingbirds and I'll add it to the list!
Related articles:
The 3 Best Binoculars for Fishing (A 2020 Review)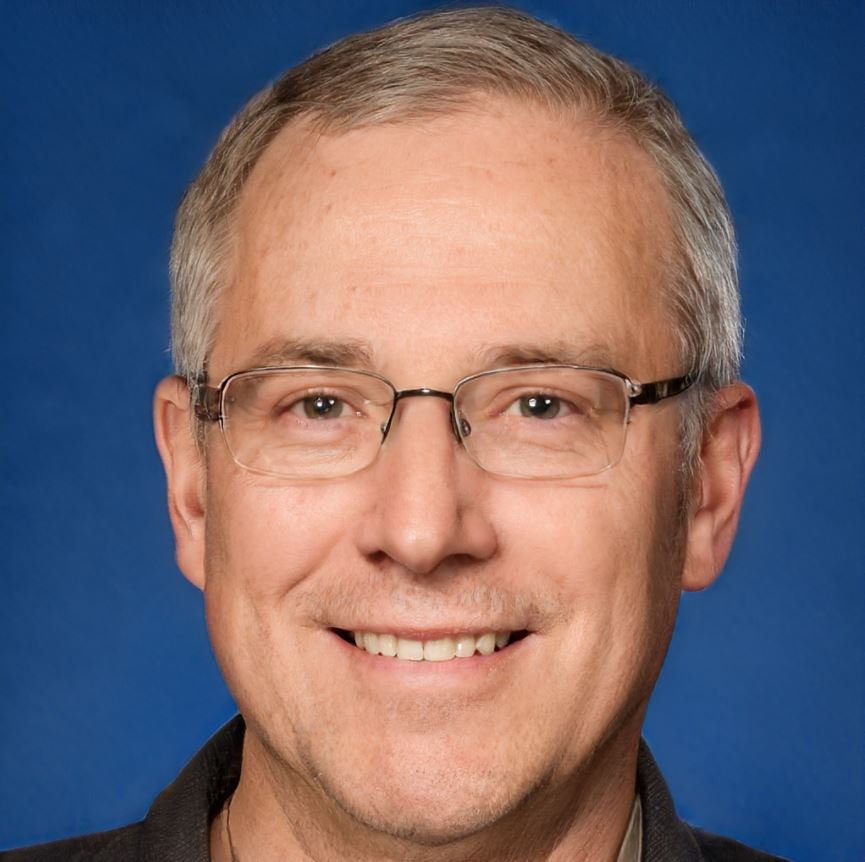 About The Author:
Hi! I'm Will Scott, the author of this post. I'm an outdoor enthusiast with over 10 years experience. I love trying out new gear and reviewing it so that other adventurers can get the most out of their experiences. I hope you've found my website informative, educational and helpful.