What is the best spotting scope tripod? Before we get into our top product reviews, let's first discuss exactly what a spotting scope tripod is, and why you might want one. 
If you have been using spotting scopes for a while, you probably know that your tripod can make or break your setup.
Spotting scopes allow people to see far distances. When a spotting scope is zoomed at short to mid-range magnification, it will work well no matter how stable it is. However, once it is zoomed to higher magnifications it will have to be stable in order to produce a clear image.
The way to get more stability is to invest in a tripod. Wind, and therefore vibration, is a spotting scope's greatest enemy. Stability is a must-have if you want to find your target while maintaining a clear image. Your tripod is the most important factor in keeping your spotting scope stable.
Sadly though, many people overlook tripods because they don't see their importance. I commonly see people with top-tier spotting scopes that still use the tripod that came for free in the box with their scope. 
As for me, I will gladly accept a free tripod; but actually using it is a different story. Those free tripods are terribly low quality.
The tripods in this list are the best available to buy in 2020. You can rely on any of these tripods to keep your scope stable. If you want an upgrade from your cheap and ineffective tripod, this post is your guide to choosing one.
Best Spotting Scope Tripod Comparison Table
Best for Portability & Travel
Best for Stability & Reliability
Best for Astronomy & Casual Backyard Use
The 5 Best Spotting Scope Tripods
The best overall tripod for your spotting scope (best value overall).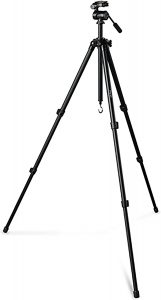 Load Capacity: 10 lbs.
Weight: 4.4 lbs.
Minimum Height: 23.9″
Maximum Height: 67.1″
Material: Anodized aluminum
Warranty: Vortex VIP warranty (lifetime warranty)
Stable in windy conditions.
Not heavy.
Legs lock smoothly and quickly.
Can support heavy spotting scopes.
Can be used comfortably at every height.
Center pole can be broken into two sections, which reduces weight.
Made by Vortex Optics, a company that specializes in optics; therefore it is specifically designed for spotting scopes, not photography.
The rubber feet do not slide on any surfaces.
Has a hook that makes adding extra weight for stabilization easy.
Could be a little too heavy for some people's preferences, but remember it is an aluminum tripod. Compared to other aluminum tripods, this one is surprisingly lightweight.
The average person does not expect to pay over three hundred dollars when they set out in search of a tripod. After all, a tripod is only needed to support a spotting scope. When people see that they can buy a tripod for 50 dollars, they tend to automatically buy it, thinking that it will produce good results. Then they realize that their expensive spotting scope is not working like it should, so they look for a new tripod.
I almost always recommend this Vortex Optics tripod to people that are asking which one they should upgrade to. The reason being that this tripod is balanced, meaning it is good in many areas. It is light, compact, sturdy, stable, and easy to use. Most tripods are only good in two, or maybe three, of those areas.
This tripod can hold heavy scopes like the Bushnell Legend Ultra HD 20-60×80 with ease. It can also handle heavy binoculars and other heavy optics. If you do not want your spotting scope (or whatever else you are using) to come loose, fall off, and break, this tripod can assure you that it will not happen.
For this tripod's price, there is not another tripod that will keep your spotting scope as vibration-free as this one does. The aluminum legs are sturdy and work well in the wind. In fact, they are so sturdy that when you set the tripod up you get the feeling that it is planted and has dug roots into the ground.
The fact that this tripod has aluminum legs worries some people because carbon fiber legs generally weigh less than aluminum legs, but this tripod does not weigh much. As listed above, this tripod weighs in at 4.4 lbs., which is almost equal to the weight of this carbon-fiber Gitzo tripod (See on Amazon) (4.06 lbs.) However, the Gitzo costs much more than the Vortex.
Overall, this tripod just has a feeling of greatness to it, like it was made by hand instead of in a factory. Honestly, I am not sure how Vortex Optics made a tripod that is this good but put such a relatively low price tag on it. As consumers though, it is our job to buy such a beauty.
2. Celestron 82050 TrailSeeker Tripod
The best budget tripod for your spotting scope.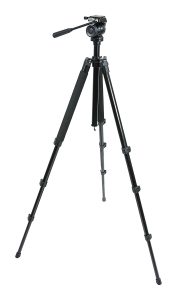 Load Capacity: 9 lbs.
Weight: 4.1 lbs.
Minimum Height: 18.9″
Maximum Height: 70.5″
Material: Aluminum
Warranty: 2 years
Lever locks for quick adjustments
Easy and fluid two-way pan head
Has a hook for adding weight
The legs are very adjustable so the tripod can be used on any surface
Simple and easy design
Stable for lighter spotting scopes
Easy to carry with the shoulder straps and foam padding
Not stable for heavier spotting scopes, and can break if you add too much weight; don't go over 7 pounds
Handle is in an awkward position
Not made for heavy optics or rough use
The head might need replacing within a year or two
If you aren't looking to spend much money on a tripod, this one is for you.
This tripod is light, portable, and somewhat stable for most spotting scopes. The only time I would not recommend that you buy this tripod is when your spotting scope weighs over seven pounds. That is because the tripod isn't stable and is prone to breaking with that amount of weight on it.
You can use this tripod on long hikes and outdoors trips because of the simple lever leg locks and the aluminum legs that can be adjusted to fit any terrain. The leg locks keep the legs sturdy and make setting up the tripod quick and simple, while the adjustable legs allow you to modify them to fit the surface you want them to stand on.
The foam padding on the tripod's legs make it easy to carry around, so the combination of foam padding and a free shoulder strap make this light tripod exceedingly portable.
A downside of this tripod is the awkward position of the handle. Using the handle can get a little uncomfortable at times because of the position it is in.
The center column can be raised and lowered for added height when needed, which is almost a necessity with tripods made for spotting scopes. It also has a hook on it for adding weight if needed, and the hook retracts into the center pole when it is not needed.
Overall, this tripod is a good budget option for anyone who is not willing to spend big on the tripods in the upper tiers. It is designed to be a balance between portable and stable and has all of the features you will need on your trips.
3. MeFoto GlobeTrotter Carbon Tripod
The best travel tripod for your spotting scope (best for portability/travel).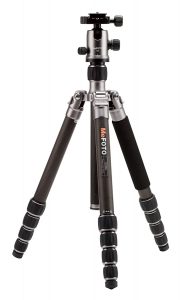 Load Capacity: 26.4 lbs.
Weight: 3.7 lbs.
Minimum Height: 16.1″
Maximum Height: 64.2″
Folded Length: 16.5″
Material: Carbon fiber
Warranty: 5 year US
Lightweight carbon fiber legs allow for easy transportation 
Large load capacity for supporting heavy optics
Legs are stable and secure
Center pole hook for adding extra weight
The legs can be folded for transportation
Weather and dust resistant
Foam grip on one leg for hot and cold conditions
Converts into a monopod
Legs use a twist-lock system for a quick setup
Limited leg lock angles
You have to be careful when taking your spotting scope off of the quick release plate or it will fall off
Hiking is a fun way to get exercise and enjoy nature, especially if you bring a spotting scope with you to get a closer look at things. However, a big and heavy tripod can ruin a good hike. Getting a highly-portable spotting scope that is stable when set up is in a hiker's best interest if he/she is planning on using a spotting scope.
One of the best portable and compact spotting scopes available is the MeFoto GlobeTrotter, preferably the carbon fiber version but the aluminum version is also good. This tripod only weighs 3.7 pounds, so you can put in your bag while you hike and not notice it. It is designed for easy setup, so when you get it out of your bag you can set it up quick and hassle-free.
A portable tripod cannot support heavy optics? This tripod disagrees. It is listed as being able to support up to 26.4 pounds of spotting scope, which is amazing for a tripod that weighs only 3.7 pounds. Of course, you do not want to put anything on it that seems too heavy, in fact, I would not recommend going over 16 pounds. You do not want to risk anything.
The main concern with most tripods is how stable they can keep your spotting scope. Sure the other stuff is nice, but if it can't keep your scope still it is basically devoid of all value. Normally, this tripod does a good job with stability. The only time I would be concerned with it is in heavy winds.
Adding to its portability, it is also resistant to bad weather and dust. If you get caught in the rain, you can worry about protecting your optics first before you worry about the tripod. It also has a foam grip on one leg, which means you can still hold the tripod if it heats up in the sun or freezes over.
Also, if you are an aesthetic enthusiast, the tripod comes in black, blue, green, red, and titanium.
This is one of the best tripods for portability and heavy loads. If you want one that you can put in your backpack, quickly take out, set up, use, and then put back in your backpack, this is one of your best options.
4. Swarovski Carbon Fiber Travel Tripod
The best high budget tripod for your spotting scope (great choice for frequent users).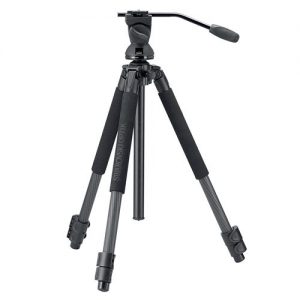 Load Capacity: 26.4 lbs.
Weight: 3.1 lbs.
Minimum Height: 19.7″
Maximum Height: 71.6″
Material: Carbon fiber
Warranty: 1 year
Lightweight carbon fiber legs
Fiber-reinforced synthetic components for stability
The legs adjust so you can use the tripod on uneven surfaces
Quick attachment and detachment of your spotting scope
Thick carbon fiber legs contribute to the stability
Center pole adjusts so high that anyone could use it
Hook for adding weight
Intuitive and quick one-handed adjustments
The head clamps onto the spotting scope no matter what you do to it
Foam weather grips on all legs
One thing that a tripod has to do is keep the spotting scope stable. If it can not do that it is not worth your time or money. 
If you want a tripod that will never let your tripod make even a slight twitch, get the Swarovski Carbon Fiber Travel Tripod. It has three huge legs made of carbon fiber and a solid center pole to support heavy optics.
Despite the legs being so big, the tripod still only weighs 3.1 pounds (I think it weighs closer to 4 pounds, but it is listed at 3.1), so that is a massive advantage. You can carry it around and set it up pretty easily if you don't mind the size.
The DH 101 head that comes with this tripod locks on to the spotting scope and doesn't allow for any movement. You can flip it upside down or sling it around or whatever else and it still won't let the spotting scope move. That is important because bigger spotting scopes with large objective lenses tend to shake around a lot with many of the heads I see.
The adjustment lever is really simple. You just move it around and you do not have to worry about it. That is one of the pluses of buying a tripod from an optics manufacturer, because optics manufacturers make their tripods for spotting scopes, not cameras.
This tripod is made for the outdoors. It is weather-resistant, has foam grips, and is thick and durable.
I think that this is just an upgrade of the Vortex Optics Pro GT that I listed above. This one costs a lot more, but if you have the money I suggest you get it. I recommend this tripod to anyone with a scope that costs over a thousand five-hundred dollars, because this tripod is one of the only ones that will let you feel the true value of your scope. Not that the rest aren't good, but this one is specially made to support heavier and more expensive scopes.
Here is a really good video on this tripod, I think it really showcases it well and I recommend you watch it:
5. Orion Paragon-Plus XHD Extra Heavy-Duty Tripod
Best astronomy/backyard tripod for your spotting scope.
Load Capacity: 26.4 lbs.
Weight: 9 lbs.
Minimum Height: 31.5″
Maximum Height: 68″
Material: Aluminum
Warranty: 1 year
Price
Incredibly strong
Extremely stable
Durable
Easy adjustments
Quick setup
Made for huge and very heavy spotting scopes, binoculars, and cameras
If you want a tripod that you can use around your house, won't cost too much, and will keep your spotting scope extremely steady, this one is for you.
It is made to be a heavy-duty tripod, so of course it weighs a ton. But the good side to that is the weight brings the price down, so if you are just using it around your house you are getting a great deal because it is very stable.
Surprisingly, the setup is very simple for this tripod, because it has lever locks.
You will probably never break this tripod because of how durable and big it is. 
The size and weight of this tripod make it an amazing choice for holding heavy and big optics. If you have an extremely heavy spotting scope, this tripod will hold it easily. If your spotting scope is average size and weight, it will hold it even easier.
Aluminum vs. Carbon Fiber: Which is Better?
The legs of most tripods these days are either made of carbon fiber or aluminum.
Carbon fiber is superior to aluminum in many ways. The first way is weight. Carbon fiber legs can hold up more weight, while still weighing significantly less than aluminum legs. Weight is important for people who are hiking and climbing with their tripod.
Second, carbon fiber legs better protect the spotting scope from vibration. Aluminum legs allow tiny little bumps that will affect the spotting scope at high magnifications, while carbon fiber legs protect against these somewhat better.
Third, carbon fiber tripods are better in bad weather. This includes when there is salt in the air. Aluminum tripods will eventually rust in salty air, whereas carbon fiber ones will not.
Aluminum tripods are only better in two areas. The first area being price. Aluminum tripods will often cost half as much as the carbon fiber model of the same tripod.
The second area is their having more weight than carbon fiber tripods. Sometimes, a carbon fiber leg's low weight works against itself, one example is in heavy winds. A heavy aluminum tripod will be better suited for heavy winds than a lightweight carbon fiber tripod because of the low weight of carbon fiber.
If you have never used a tripod, you might not know what all of the parts are. Here are the parts of a tripod:
The tripod head is the part of the tripod that holds your spotting scope. It sits on top of the tripod legs.
There are multiple types of heads, for example, the ball head, pan handle, pistol grip, etc. 
Bigger and heavier spotting scopes might require stronger heads than what comes with the tripod by default. If that is the case with your spotting scope, you will have to buy a new head. It will be somewhat expensive, so be prepared.
The legs are made to support the head, and therefore the spotting scope. The legs are the most important factor in buying a tripod and they cost the most.
The tripod legs and the tripod head are sold together with most sets, and with cheaper sets they are sometimes inseparable. However, on more expensive tripods you can buy the two separately and they are separable. 
Tripod legs are the most important factor in keeping your spotting scope stable. The legs are usually either made of carbon fiber or aluminum.
The tripod feet are self-explanatory. They are the feet on the bottom of the tripod.
Most tripods have good feet, so that is not something you should worry about when buying a tripod.
The most common tripod feet are rubber and spiked feet. Rubber feet are more geared towards indoors and flat surfaces, while spiked feet are better for the outdoors. However, they can both be used for either situation.
The center column is the pole that sits in the center of some tripods. 
Not all tripods have a center column. Center columns provide an advantage to spotting scope users because they allow you to adjust the spotting scope up and down for height. Keep in mind that the higher you lift the center column, the less stable your scope gets. So only use it as needed.
The center column often has a hook on it that lets you add extra weight to your tripod. This helps with stability in windy conditions.
The quick release plate is designed to let you quickly attach and remove your spotting scope from the tripod head.
Some spotting scopes come with a plate at the bottom which has a part of it designed specifically for quick release plates. That helps when you need to set up your tripod and spotting scope quickly.
The Types of Spotting Scope Tripods

Tabletop tripods are designed to do what their name suggests: sit on tables. They do not offer height adjustments through the legs like other tripods do. Instead, they only have height adjustments by using the central column.
These are good for setting up and using in urgent situations, but they are not stable enough for medium-to-high magnifications.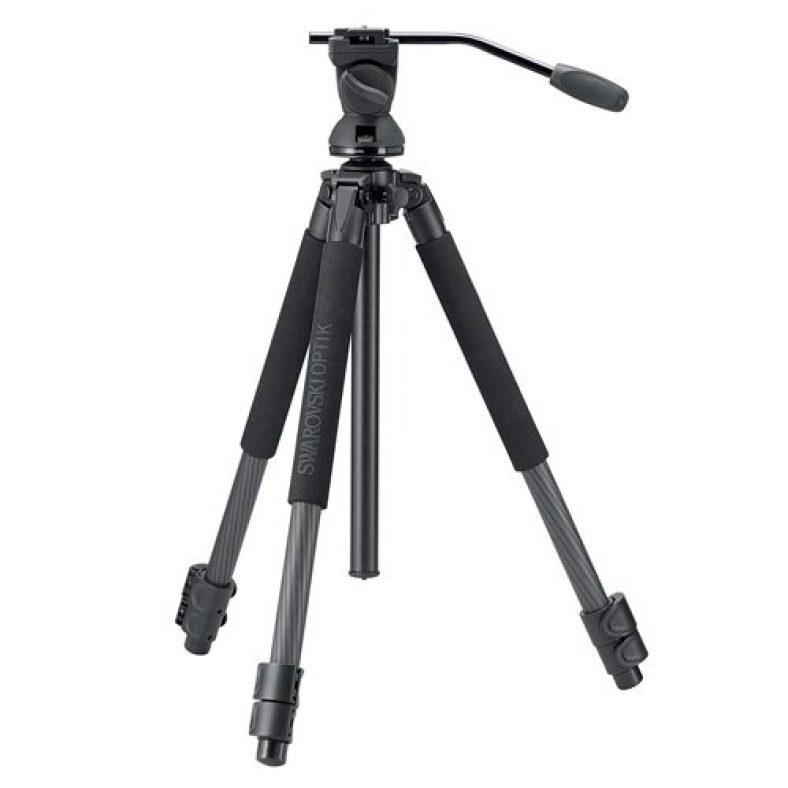 Compact tripods are much taller than tabletop tripods. They allow you to increase the height by extending their legs, which come in multiple sections.
These tripods are loved by hikers and outdoors-men because of their portability and light weight. They are usually very stable, unlike tabletop tripods.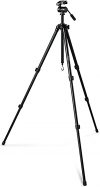 Full-size tripods allow people to use their spotting scope while standing up. They can reach heights of around 60 inches. When you extend the center column they can get up to around 75″, but that reduces the stability. 
You have to be careful when choosing a full-size tripod, because there are quite a few that are bad. However, if you choose a good one it will allow you to use your spotting scope to it's fullest.
Best Spotting Scope Tripod - Conclusion
There are many different spotting scope tripods to choose from, but hopefully I just cleared it up for you. You will have to shell out a few bucks if you want to use your spotting scope to its fullest, so don't go cheap on the tripod.
If you found this article helpful, don't forget to share it with your friends and family!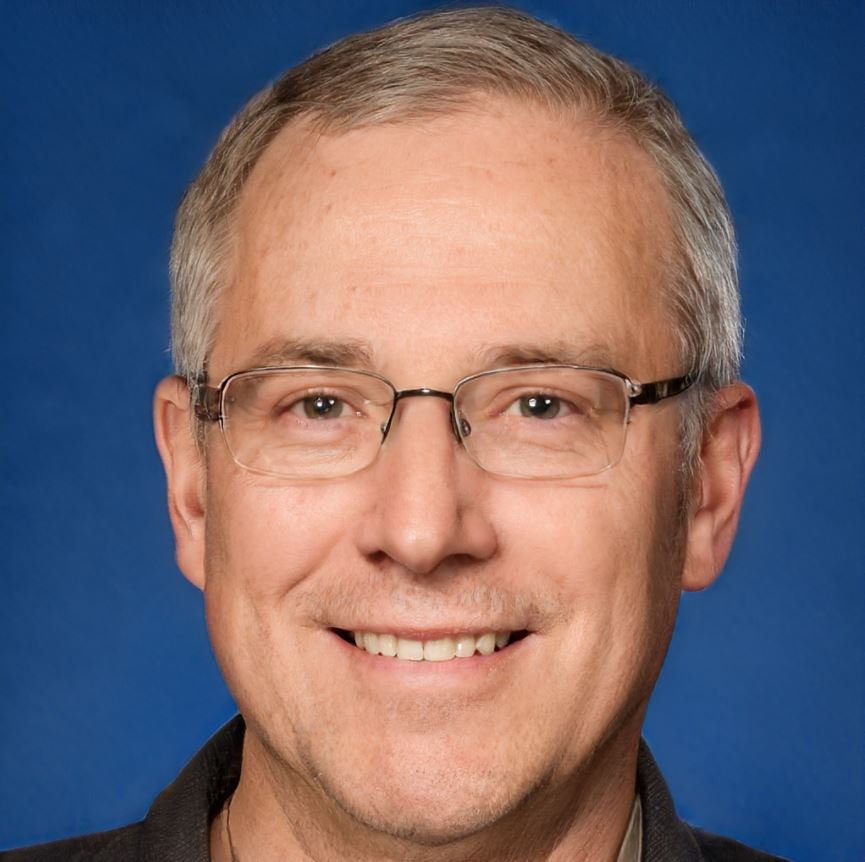 About The Author:
Hi! I'm Will Scott, the author of this post. I'm an outdoor enthusiast with over 10 years experience. I love trying out new gear and reviewing it so that other adventurers can get the most out of their experiences. I hope you've found my website informative, educational and helpful.