Welcome to our article about the best spotting scope for target shooting. Before we get into the reviews of our top models (one for each 100 yard distances), let's first discuss why you might want to invest in a spotting scope to begin with.
Best Spotting Scope for Target Shooting – Introduction
Spotting scopes are the most frequently used optic for target shooting. They make it easy to see your bullet holes from where you're shooting with their combination of high glass clarity, high magnification power, and large objective lens.
However, they are most commonly used for birding, hunting, and wildlife viewing. The problem is that if you purchase a spotting scope made for one of those activities and you are only going to use it for target shooting, you are going to be spending too much.
You don't want to overspend on a target shooting spotting scope. Your goal should be to get the cheapest scope possible that will do its job and nothing more. You aren't going to be digiscoping with it or anything, so there is no need to overspend!
Before I cover the most important features of a target shooting spotting scope, I need to point out that there are no spotting scopes that are immune to bad weather conditions.
Humidity, heat waves, heavy wind, and other bad conditions render even the best spotting scopes useless. For that reason, you have to test scopes in a variety of conditions before you can pass your judgment on them.
Anyways, let's cover the only four factors of target-shooting spotting scopes that you should consider before you choose one.
The four factors are eye relief, target distance (100 yards, 300 yards, etc.), lens quality, and magnification. 
Those factors are all important, but the most important factor is the target distance. A spotting scope made to see 100 yard targets is much different (and much cheaper) than a scope made to see 400 yard targets.
In this article I will cover the best target shooting spotting scope for each possible target distance. I ranked the scopes based off of their price-to-value ratio and how good they were in terms of the four components that I listed.
Here are the best spotting scopes for target shooting:
The 4 Best Spotting Scopes for Target Shooting:
1. Emarth 20-60x60AE Waterproof Angled Spotting Scope
Best target spotter at 100 yards & under.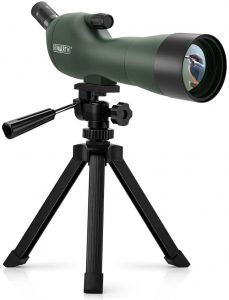 This is the best spotting scope for target viewing under 100 yards. It is a cheap scope but it works fine and will be all that you need. The biggest problem is the tripod, but that is excusable for most people. I suggest that you get your own tripod anyways, no matter what scope you buy.
Consistently views bullet holes around 90 yards and below
Cool carrying case
Very affordable (cheap)
Simple/easy to use
Pretty design
Tripod is bad; it shakes in the wind, feels flimsy, and doesn't always stand up right
Scope doesn't feel durable
When buying a spotting scope for use under 100 yards, you don't need top tier optical quality or tons of magnification power to get the job done. You just need an affordable scope that can do its job consistently and hassle-free.
Of course, this scope doesn't have the glass clarity of pricier scopes. The glass clarity won't be much of a problem until you get really close to 100 yards. 
If you are planning on shooting targets that are right at 100 yards, the next scope on this list is a better choice for you. 
The biggest problem with this scope is the tripod it comes with. It shakes too easily to be used outside, and it is flimsy no matter where you use it. That's not a deal breaker though because it won't make a huge difference under 100 yards.
All-in-all, the Emarth 20-60x60AE Waterproof Angled Spotting Scope (See at Amazon) is the best spotting scope for target shooting under 100 yards. 
You could spend two times the price of this scope to get a scope with cooler features, but you would never use them since you're only target shooting. 
This scope has just enough glass clarity, magnification power, and eye relief to save you from having to constantly walk 100 yards to see your target.
2.

Landove 20-60X 65 Spotting Scope
Best target spotter at 200 yards & under.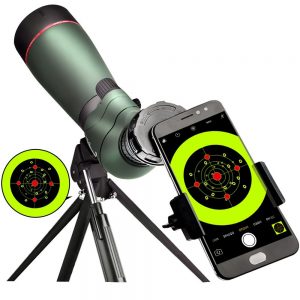 This scope is great for viewing target holes up to around 150-200 yards away. The scope's glass clarity is its best feature. Also, the scope as a whole has a very sturdy feeling, and so do all of the extra gadgets that come with it.
Optical clarity is unreal for the price
Inexpensive
Best scope in its price range
Comes with digiscoping adapter, tripod, carrying bag, and lens cap. They are all durable and high-quality.
With spotting scopes made for 100 yards and up, you have to start paying closer attention to the optical quality and magnification. With all spotting scopes, the more you zoom in the blurrier the lens get. So for 200 yards, you have to buy a spotting scope that has enough optical clarity to not get blurry at low magnifications.
There is a bad part to that though; spotting scope that do not get blurry quickly cost more money. High-quality optics come at a price. Luckily though, there are a few relatively cheap scopes out there that can be effectively used for 200-yard target shooting. This Landove is one of them.
I am a huge supporter of this spotting scope. First of all, the lens are really clear compared to other scopes in this price range. That is important because the lens clarity plays a huge role in helping you clearly see your target holes. So yeah, the clarity was a big surprise to me because I didn't expect to get that level of glass quality out of a spotting scope that wasn't really expensive.
Second, this scope comes with a digiscoping adapter, tripod, carrying bag, and lens cap. Not only does it come with these things, but they are also durable.
Third, this is one of my most-recommended scopes. It is easy to use and the eye relief is comfortable.
For shooting targets at 150-200 yards, the Landove 20-60X 65 Spotting Scope (See at Amazon) is the best on the market. 
This scope's cheap price might scare you, but don't worry. The scope's value is way out of its price range for target shooting.
3.

Bushnell Legend Ultra HD 20-60x80 Spotting Scope
Best target spotter at 300 yards & under.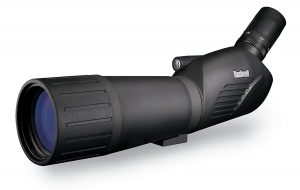 This scope is one of the cheapest scopes I know of that can reach 300 yards. Most scopes with that ability cost a good amount more. I think the reason this one is cheaper is the weight, but that isn't a big deal to me. If you want a great spotting scope for 350 yards and under, pick this one up.
Best spotting scope for use around 350 yards because it gets the job done for a low price
Fully multi-coated optics, BaK-4 porro prisms, and ED glass
Feels durable
Lens are clear
Bushnell lifetime warranty
Bulky
Heavy
Oddly shaped carrying case
The jump from 200 to 300 yards is a much bigger deal than you would think. The extra 100 yards demand a lot of optical clarity. Cheap scopes with big objective lenses will not work at this distance, so don't try it. You will have to have high-quality glass or else you will not be able to see your holes in the target.
This scope is made with high-quality ED glass. The ED glass prevents almost all chromatic aberration, so there is less distortion and fuzziness when you look at your marks.
Weight is the biggest downside of this scope. If you want to adjust it a lot or move around, get ready to have tired arms. But if you are just going to be target shooting, you don't have to worry much about weight. 
In fact, the added weight brings the scope's price down, so that is a dream come true for target shooters. Weight isn't a big factor for target shooters like it is for birders or hunters because target shooters don't do much moving around, so you are basically just getting a really good spotting scope for a discount.
If you want the best spotting scope for your money in the 300-yard range, go with this one. It is a steal because the weight of the scope brings the price down, despite the amazing glass clarity.
Overall, the Bushnell Legend Ultra HD 20-60×80 Spotting Scope (See at Amazon) is the best value spotting scope for target shooting under 300 yards. 
4. Pentax PF-80ED Spotting Scope
Best target spotter at 400 yards & under.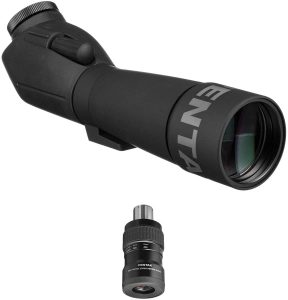 There aren't too many scopes that can handle the demands of 400 yards. Only the best of the best can reach that high and retain a clear image. This scope is one of my favorite options for target shooting. You must understand that you will have to pay the price if you want a scope that can reach 400 yards. But, if you want to spend your money on the one that offers the most value for the lowest cost, choose this Pentax.
Crazy good lens clarity
Cheapest scope that can handle 400 yards
Very easy to use
Durable
Best spotting scope for target shooting in the price range
Can see very clearly at its highest magnifications
Has an 80mm objective lens
Worth every penny
Getting up to 400 yards demands a ton from modern spotting scopes. If you want to buy one that can reach that high, you will have to pay the price for it-and it won't come cheap. Most scopes that are capable of reaching 400 yards start at a price around $1000.
When you are zooming on a target 400 yards away, you will constantly be struggling to battle against the atmospheric conditions. You might be able to see the target clearly for five seconds at a time but you will constantly have to make adjustments as the atmospheric conditions change. You will also need to have a really sturdy tripod because even the slightest twitches while aiming can, and will, make you lose your focus.
However, if you are looking to see targets at 400 yards and under, this is the most qualified scope for it. You could spend $2000 and get a scope with slightly better quality, but it definitely wouldn't be worth the added $1000. 
Obviously, this scope has the 4 major qualifications that I listed at the top of this article. The scope is well worth the money if you can afford it.
So, if you want the best scope for your money that can reach 400 yards, go with the Pentax PF-80ED Spotting Scope (See at Amazon).
What Else Are Spotting Scopes Used For?
Spotting scopes make a good gift for anyone who loves the outdoors. They allow you to zoom in on wildlife, your prey, or pretty much anything. They are also great for digiscoping, so if you like photography you should consider buying one.
Hunters use spotting scopes to identify or look for their prey before they decide to shoot it. Spotting scopes help them decide if they are actually seeing an animal, decide if they are seeing the right animal, and decide if they want to shoot it.
Birders use spotting scopes for a variety of reasons. The most common is to zoom in on birds to decide what species they are.
Digiscoping is when you take a picture with a camera on the lens of a spotting scope. Taking pictures like that lets you take zoomed in pictures that are really clear.
Other uses for spotting scopes are viewing other types of wildlife, astronomy, and surveillance.
If you want more information on the uses of spotting scopes, read my article "What Are Spotting Scopes Used For?"
Spotting scopes are one of a target shooter's most valuable tools. They allow them to stay in one spot while they shoot at their targets instead of having to get up and walk all the way to it. 
If you were wondering why I didn't list any scopes for higher ranges than 400 yards, it is because today's technology does not yet allow for scopes to be that advanced (for an affordable price).
If you found this article helpful, don't forget to share it with your friends and family!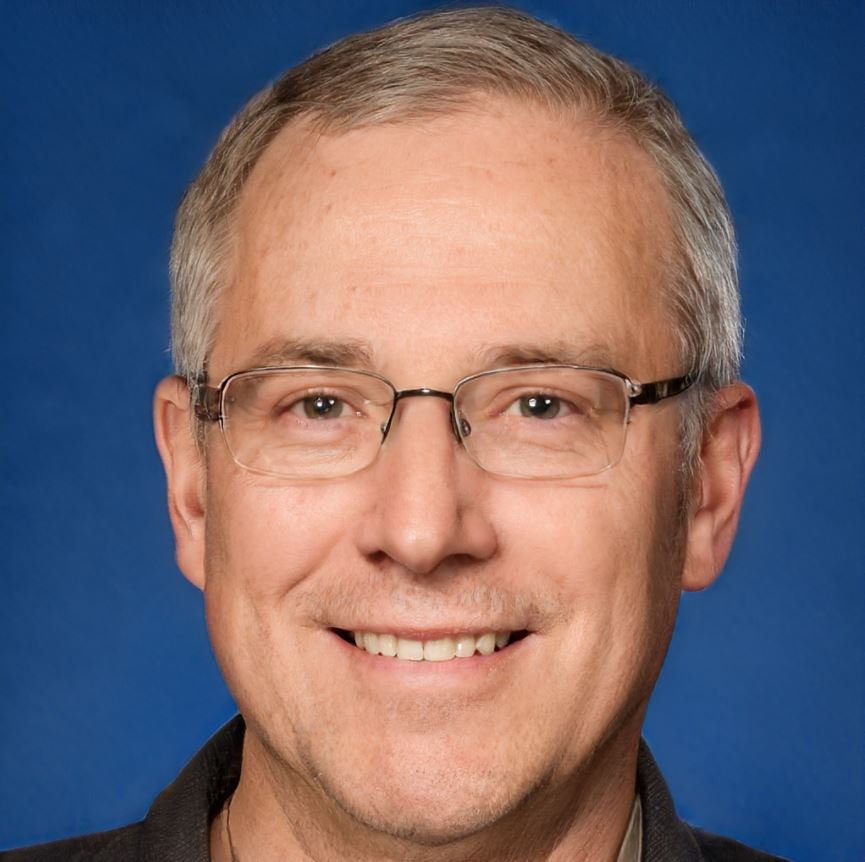 About The Author:
Hi! I'm Will Scott, the author of this post. I'm an outdoor enthusiast with over 10 years experience. I love trying out new gear and reviewing it so that other adventurers can get the most out of their experiences. I hope you've found my website informative, educational and helpful.