Welcome to our article about the best budget golf rangefinders under $200!
Before we get into the detailed reviews of our top 7 models, let's first discuss why you might want to consider a rangefinder to use on the golf course to begin with.
Best Budget Golf Rangefinder – Introduction
Why Invest In A Golf Rangefinder?
Whether you are a professional or a beginner golfer, investing in a rangefinder is one of the best things you can do to improve your accuracy, lower your handicap and beat the competition.
This is because a rangefinder helps you accurately measure the distance between you and the hole or flag markers.
No more consulting a yardage book nor relying on your caddy's estimates, and definitely no more ambiguous guesswork.
This allows you to then choose the right club and swing technique to achieve the best ball trajectory and make more accurate shots, all while helping you avoid hazards and blind spots.
About The Rangefinders In This Article
There are a lot of rangefinders out there, ranging from under $100 to over $1000, each with their own specific features and benefits.
However, while researching and testing for this article, we realised that there are a wide range of high quality, accurate golf rangefinders under $200.
Understanding that there are a lot of beginner golfers out there, or players that want an affordable rangefinder that does the job without breaking the bank, we hence decided to make this article exclusively about the best budget golf rangefinders.
That been said, we still only included rangefinders that we feel are up to scratch. Whilst they may be affordable, all the rangefinders listed below are also accurate, durable and reliable.
We took care to omit any rangefinders that were simply cheap and no good, as our number one priority is ensuring that you find the best product for your needs at the best price.
Now let's get into a quick summary of our top budget golf rangefinders!
The Top 7 Best Budget Golf Rangefinders Are:
Callaway EZ Laser Golf Rangefinder
Laserworks Professional Class Laser Rangefinder
Wosports Golf Rangefinder
Macwheel Golf Rangefinder
Precision Pro NX2 Rangefinder
Precision Pro NX7 Rangefinder
MiLESEEY Professional Laser Golf Rangefinder
Out of the list above, below are our top picks for a number of categories – most affordable, most high tech and best overall.
If you're in a hurry and want to get to the top models straight away, you'll find them in the table below.
If you're on mobile, scroll across the table with your finger!
Best Budget Golf Rangefinder Reviews
Now let's go through detailed reviews, pros and cons of our top 7 golf rangefinders.
Callaway EZ Laser Golf Rangefinder
Best Overall Rangefinder!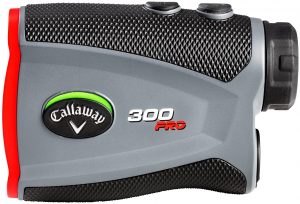 The Callaway EZ Laser Golf Rangefinder is a laser rangefinder that can measure elevation changes, incline and decline angles, and slope adjustments quickly and accurately.
It is equipped with 6x magnification and a range of 5 – 1000 yards with +/- 1 yard accuracy. It can provide measurements in yards and meters, and the LCD shows them quite clearly.
It features an advanced Slope Technology that measures the angle of incline or decline and instantly calculates the adjustments for the slope. What's great about this feature is that it can be turned off with just one click, making this rangefinder legal for use in golf tournaments.
Its precise laser measurements are combined with its Pin-Locking Technology or PAT that enables you to lock on to a pin up to a distance of 300 yards.
It emits a short chirping noise to let you know that the laser has locked onto the pin for distance confirmation.
The Callaway is the best overall rangefinder in this article.
It's quick, accurate, reliable and excellent value for money – if you're looking for the best rangefinder for golf under $200, this is it!
PROS
Sleek, ergonomic, and no-slip grip design
Lightweight at 7.58 oz
Water and fog proof
CONS
The LCD is hard to read in low light conditions
It has a non-rechargeable battery
LaserWorks LW1000PRO Professional-Class Laser Rangefinder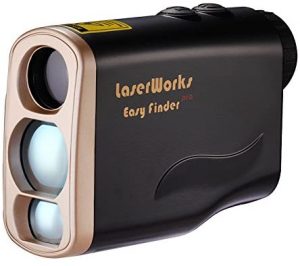 The LaserWorks LW1000PRO Professional-Class Laser Rangefinder is a professional-caliber laser rangefinder that has incredible accuracy for it's price range.
It features a 21 mm objective lens with a 6x magnification and a range of 5 to 1000 yards, which can reach up to 1600 yards for highly reflective targets.
Its new generation special chip 1409, developed solely by LaserWorks, provides a more stable and quicker distance measurement, eliminating the problem of remote ranging.
Its minimalist design provides just 2 buttons, one for measuring and the other for switching between modes. It automatically powers off after 15 seconds of inactivity to save on power consumption.
It features not only distance measurement, but flagpole locking, fog mode, angle, height and horizontal distance measurements, and golf trajectory correction, as well.
It is a Class I laser product with a maximum average radiant power of 70.1μW, guaranteed to cause no harm to your health.
PROS
Incredibly compact, fits perfectly in your hand or pocket
Lightweight at a mere 5.36 oz
Weather and dust proof body
CONS
The plastic case does not seem too durable
Instruction manual is hard to understand
WOSPORTS Golf Rangefinder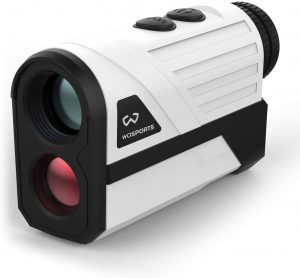 The WOSPORTS Golf Rangefinder is a fast focus rangefinder that provides highly accurate measurements.
One of our favorite features on this rangefinder is the diopter adjustment function that gives a clear view whether you are near or farsighted.
It features a measurement range of from 5 to 800 yards with a +/- 1 yard accuracy and up to 250 yards for a flag lock. 
Its Slope mode allows you to compensate for any incline accurately so you can choose the best golf club to use no matter where you're standing on the course. This feature can easily be turned off to make it legal for tournament use.
It also features fog and speed modes, which provide clearer images at far distances, and range and scan modes, which measure the distance as you move from one point to another to give you more accurate results.
Its most innovative feature may be its upgraded battery cover design. The unit and its battery cover cannot be separated, so you won't have to worry about losing the cover and hence using a rangefinder that has become a safety hazard because it's batteries are exposed!
PROS
Its Advanced Flag Acquisition feature filters out any background objects and hazards
Switching from yards to meters and vice-versa is quick and simple
CONS
Getting accurate readings sometimes involves several trials
Macwheel Golf Rangefinder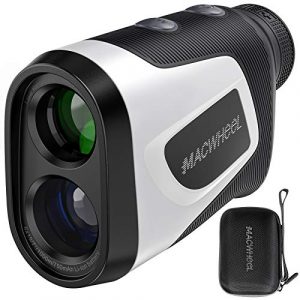 Unfortunately the Macwheel Rangefinder is not currently available. We are constantly watching the market for product availability and will immediately update this article when/if it becomes available again.
The Macwheel Golf Rangefinder is a laser rangefinder that can help you improve your golfing performance with its one-of-a-kind angle, horizontal, and straight-line distance algorithm.
Its high precision capability provides pinpoint accuracy within +/- 1 yard on a target 1000 yards away in an instant. Its 6x magnification plus the rotatable lens allows you to zoom in on your target clearly and quickly.
It features a Slope mode that compensates on inclines or declines and calculates not only the horizontal but the trajectory distance between you and your target, as well.
The flag-pole locking mode gives you a vibration when it has identified and locked onto your target.
It is equipped with 5 modes:
Distance
Flag-pole
Golf trajectory
Speed
Horizontal and vertical distance
These can be useful in activities other than golf, such as hunting, hiking, and even in construction, making this a great option for those who might engage in a range of activities where a rangefinder can come in handy.
It has 2 functions buttons, one to turn it on and one to switch between the various modes, allowing for one-handed use.
PROS
Rechargeable lithium battery good for up to 500 charges
Anti-drop and anti-skid body for easy handling
CONS
Battery tends to run out of power quite fast
Hard to hold steady and focus
Precision Pro NX2 Golf Rangefinder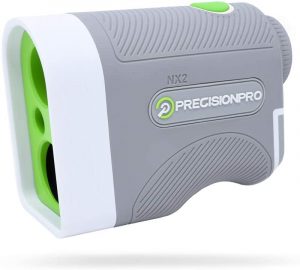 The Precision Pro NX2 Golf Rangefinder is a laser rangefinder with TAG or Target Acquisition Technology that scans objects within your field of view as it focuses on your target for extreme accuracy.
TAG also ensures that what the rangefinder measures are your target and not the objects around and behind it – an added layer of accuracy which we love.
It has crystal clear optics with 6x magnification, a viewfinder width of 20 mm., and a 400-yard range capacity with an accuracy of 1 yard. It displays measurements in 1/10-yard, but switching to meter readings is quick and simple.
It is engineered to be water-resistant, shock-proof, and user-friendly. It also features an ergonomic non-slip grip for easier handling.
Its most noteworthy feature may be its free lifetime battery replacement services, product registration, a 2-year warranty, trade-in options and outstanding customer service. This is excellent support, particularly considering how affordable the rangefinder is.
This rangefinder comes with a Cr2 3-volt battery, a hard-shell carrying case, a lanyard, a cleaning cloth, and a user manual.
All these extra accessories make this a great option for those purchasing a rangefinder for the first time as you will get all the kit you need in one go!
PROS
USGA-legal rangefinder
Lightweight at just 13.62 oz
Compact and easy to hold
CONS
It is a no-slope rangefinder
Locking onto targets can become sketchy beyond 250 yards
Precision Pro NX7 Golf Rangefinder
Most High Tech Rangefinder!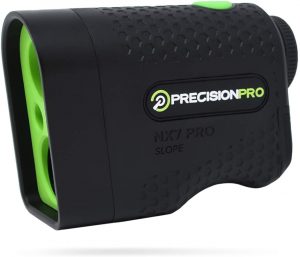 The Precision Pro NX7 Golf Rangefinder is a laser rangefinder that features Pro Slope Technology to provide accurate measurements on both flat and sloped surfaces for better golf club selection.
Its crystal-clear optics feature 6x magnification and a 600-yard range capacity with a 1-yard accuracy. The precise technology of this rangefinder provides quick yardage of the distance of a golf ball to the hole. Measurements can be set for yards or meters.
We love the simplicity of it's one-button operation. You press the button once and a circle with crosshairs will appear. Press it again and it will give you the exact measurements between you and your target in seconds.
It is equipped with Adaptive Slope Technology that performs accurate calculations of slopes and elevations for precise yardage. 
It also comes with Pulse Vibration Technology that lets you know when it has locked on to your target with a short vibration.
This rangefinder is the perfect option for those who want lots of high tech features without the price tag!
PROS
Designed and manufactured by real golfers
Comes with lifetime free battery replacement
Lots of high tech features for a very reasonable price
CONS
Reading the measurements in low light conditions is difficult
The vibration feature slows down the distance reading time
MiLESEEY Professional Laser Golf Rangefinder
Most Affordable Rangefinder!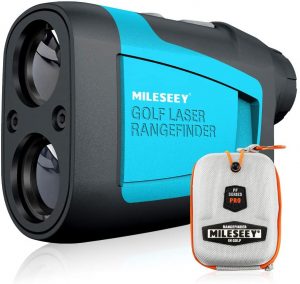 The MiLESEEY Professional Laser Golf Rangefinder is a laser rangefinder that has exceptional features perfect not only for golf, but also hunting, engineering, and other outdoor activities, making it another great all-round rangefinder.
It features TOF or Time of Flight technology, an angle slope compensation system, and Flagpole Lock scanning to provide accurate angle-compensated measurements for uphill and downhill shots.
What's more, it has a speed measuring range of 18 ~ 300km/h.
Its accuracy can reach up to +/-0.55yard with a range capacity of up to 600 yards.
It features a fully multi-coated lens at 6x magnification, diopter adjustment of +/-5D, and a 7-degree field angle to give you clearer measurements for golf flags, hazards, and wooded areas.
Its 4.33" x 2.56" x 1.5" dimensions are packed neatly in an ergonomically designed body with a soft non-slip ABS and PP material.
At 5.93 oz, it is one the lightest units in the market within similar price ranges, which makes it easy to carry around with you all day on the golf course.
Considering that this rangefinder comes in at under $100, we think it's incredible value for money and the top option for those on a very tight budget!
PROS
Slope mode can be turned off for tournament plays
Has a simpler way to remove and install batteries than most rangefinders
Extremely affordable
CONS
Battery compartment does not have a rubber seal
Occasionally reads yardages shorter than the actual yardage
Best Budget Golf Rangefinder – Conclusion
As you can see, there are a number of high tech, highly accurate rangefinders that are designed specifically for the golf course available on the market.
Any of the rangefinders mentioned above will help you accurately measure the distance between your tee and the hole. We hope this article has helped clarify the features and pros of different models, and allowed you to select the perfect rangefinder for your specific needs.
Here are some related articles you may also enjoy:
Best Bow Hunting Rangefinder
Best Spotting Scope for 1000 Yards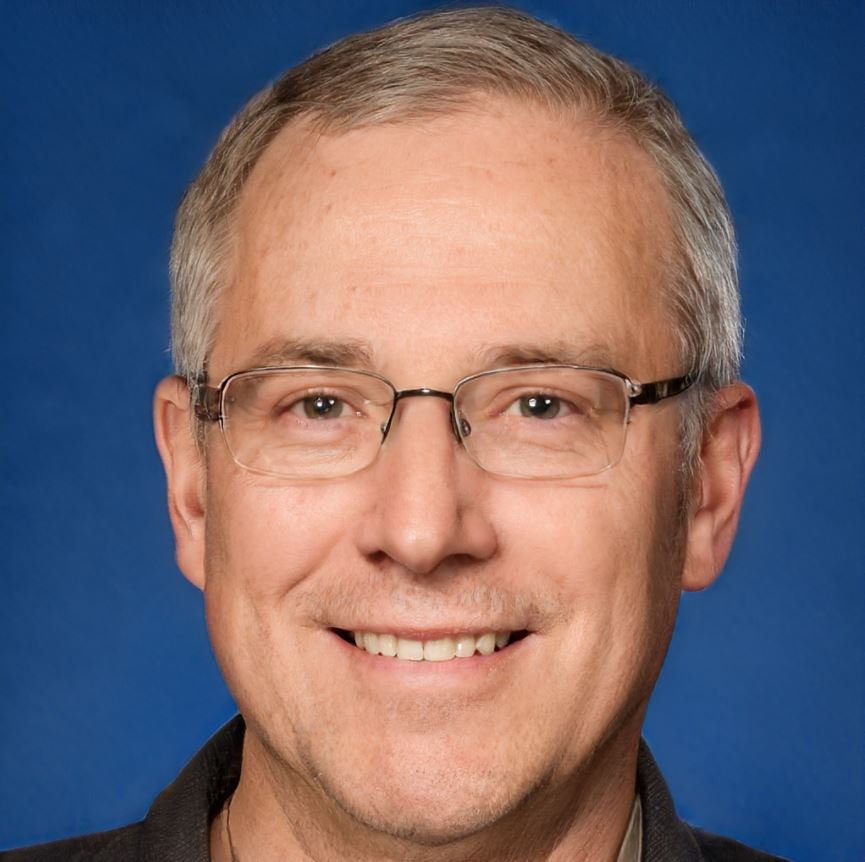 About The Author:
Hi! I'm Will Scott, the author of this post. I'm an outdoor enthusiast with over 10 years experience. I love trying out new gear and reviewing it so that other adventurers can get the most out of their experiences. I hope you've found my website informative, educational and helpful.